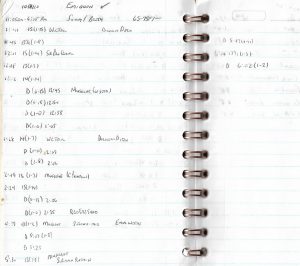 Today's flashback revisits a crazy place called Emiquon. My rough draft of this post began as an essay on how the elements of a fairytale pertained to that old fishing hole. You know, occurs in the past, an enchanted place, heroes and villains, make believe (or actually believe it or not in this case) and so on. However, I put that one on the shelf as it was worthy of some more work and research. Instead, I am going with the original report from a trip that took place a long time ago on a fishing hole far, far away…
Originally posted 10-10-10
Last Friday offered up an ideal day to pay an overdue visit to The Emiquon Preserve with unseasonably warm temperatures and winds forecast in the single digits. Launching and parking were a bit less spacious but with an October crowd of half a dozen and dry conditions all was just fine. Here's a look at how we fared.
Date: October 8, 2010
Time: 11:05am-6:05pm
Location: The Emiquon Preserve
Weather: Sunny/windy
Air Temp: 65-75F
H20 Temp: Not available
Results: 23 bass, (Dad – 12 bass, Troy – 11 bass)
Lures: Vicious Fishing Muskrat (watermelon seed or green pumpkin) – 16 bass, Strike King Pro Series Model 5 crankbait (sexy shad) – 3 bass, Yum Wooly Curltail (green pumpkin) – 3 bass, Strike King Red Eye Shad (chartreuse sexy shad) – 1 bass
Top Bass – Troy 1-15 Yum Wooly Curltail (our first bass of the day)
Top Five Weight: 9-4 (1-15, 1-14, 1-14, 1-14, 1-11)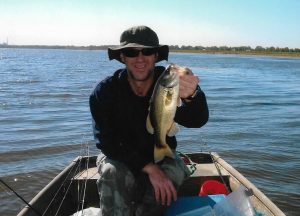 11:41am – First bass and Top Bass at 15″ and 1-15 
Notes and Nonsense
Guessing Game – The temporary ramp is about a mile south of the former access so it ruled out a lengthy run north to our normal stomping grounds. On the bright side it kind of forced our hand in regards to exploring some new water. One drawback is not having a true depthfinder. But we spent many years using an oar, the anchor or a lure so we weren't exactly in unfamiliar territory.
Pattern – Our best results came while casting Muskrats tight to weed edges near, but not on, ditch edges. The key was having room to crawl the baits out of the weeds and along the short four to six foot deep ledges before hitting the twelve to fifteen foot deep ditches. If the border of the weed edges sat right on the dropoff it was no good.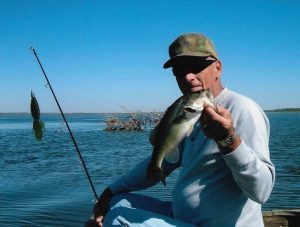 12:45pm – Dad on the board via a Muskrat as included in pic
Observing Others – Another pair of anglers appeared to be having some success running lipless crankbaits through the scattered weeds as we witnessed several catches from fairly close. About fifty feet close, in fact. We were once again left perplexed as the boat came from about half a mile away to fish right where we'd been anchored during their entire approach. On the other hand, we had the decency to keep our distance from another boat that was nailing some fish with an undetermined lure (I need to start packing some binoculars) about a quarter mile away. However, you can bet that we will be all over that spot if it is vacant on a return trip.
Lost Fish – Dad got me by one bass although it would have been no contest were it not for some hook problems. For whatever reason he was having difficulty keeping fish on as he lost roughly half dozen at boatside that just let go. I only lost one fish as I busted off my last Wooly Curltail on a short hookset.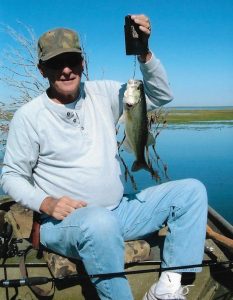 2:09pm – Dad's Top Bass at 1-11
Lost Lure – I also lost a Strike King Pro Series Model 6 crankbait to a bush although I gave it a valiant rescue effort with my lure retriever. I can't recall the last time the retriever let me down but the line appeared to be wrapped in some branches above the lure preventing me from knocking it free. Unfortunately, I did not have a replacement for the crankbait which had caught three bass off the spot in the previous ten minutes.
Bad Timing – My Bass Pro Shops order showed up at home while we were on the water. Therefore, I had only one Wooly Curltail and it landed three of my first six bass before busting off as noted above. I also had a few new "secret weapons" in the order that will now have to wait for another day. But I only have myself to blame as the order was placed using a gift card received from my wife for my birthday on July 23. I can't wait for the East Peoria store which also reminds me that I need to start saving some money (yeah right).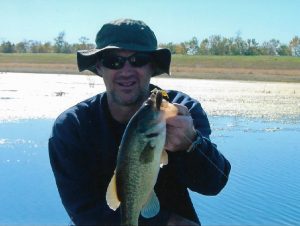 2:24pm – Top Bass Runner-up at 15″ and 1-14 on a Muskrat
Overall, I'd have to say that the day was pretty much what I'd expected. Twenty three bass with nearly all between thirteen and fifteen inches, a lot of time spent trolling on the expanse of water and no mistakes by any lunkers seems to be par for the course these days. What a difference a year makes as 366 days prior, my brother, Brent, and I reeled in 154 bass. It's got me wondering if you can actually refer to something that happened only a year ago as "the good old days."
Ten years of water have passed under the bridge, so to speak. And the water has changed dramatically at Emiquon rendering it a mere shell of its former self. Perhaps that is a topic for another day. For today, it is simply time to remember what certainly qualifies as the good old days on a fishing hole that was like no other. Talk to you later. Troy