Have I ever mentioned how much I dig fall fishing?
Even though I know that winter and a lengthy fishing drought loom on the horizon, I always look forward to chasing fall bass as my year winds down. And every once in a while you find one of those magic days when the bass provide quite a sendoff.
Originally Posted 10-29-15
Stats
Date: October 24, 2015
Location: Little John Conservation Club (3 lakes)
Time: 9:30am-4:05pm (5.75 hours fishing, the rest relocating)
Weather: Overcast/very windy
Air Temp: 61F-57F
Water Temp: 59-62F
Totals: 33 bass
Lures: Booyah Counterstrike Spinnerbait (salt & pepper) – 21 bass, Strike King Red Eye Shad (sexy shad) – 9 bass, Senko wacky rig (baby bass) – 2 bass, Berkley Havoc Pit Boss (green pumpkin) – 1 bass
Top Bass: 4-13 (Booyah Spinnerbait)
Weight: 18-1 (4-13,4-10,2-15,2-14,2-13)
9:41am – First Bass at 20.5″ and 4-10 on a lipless crankbait
Notes & Nonsense
20 pound Club – I was out in search of five more ounces on my creel in order to reach the 20 pound mark. For me that's a real solid year and sitting at 19-11 as I drove to the lake meant that I needed to find a 3-4 in order to reach my goal. I had a pair of lakes in mind where I thought I had a solid shot at fooling one of that weight. Eleven minutes into casting I had my first fish which tipped the scales at 4-10, so all pressure was off by 9:41am. I'd actually hooked a small bass on my very first cast which can be viewed as sort of a curse but luck was on my side as the little catch threw the lipless crank before coming aboard much to my relief.
The Wind Giveth – An area full of wood on my second stop was just taking a beating from heavy winds out of the west southwest. And the bass were right there where they were supposed to be to the tune of seven fish in 46 minutes. Not only was the quantity to my liking but so was the quality. Between 12:36pm and 1:22pm the following were jotted down in the log:
12:36pm 15" 1-6 Booyah Spinnerbait
12:44pm 18" 2-14 Booyah Spinnerbait
12:54pm 15.5" 2-0 Booyah Spinnerbait
12:57pm 17" 2-13 Booyah Spinnerbait
1:06pm 16" 1-15 Booyah Spinnerbait
1:14pm 18" 2-15 Booyah Spinnerbait
1:22pm 15" 1-11 Berkley Havoc Pit Boss
All came while working maybe a thirty yard stretch of a small cove littered with laydowns and stumps. I milked the spot for that last fish by employing a slowdown technique with the Pit Boss creature type bait and was pretty proud of myself for changing it up. But then I thought, boy that is dumb when the bass had really been playing to my strong suit of power fishing with a spinnerbait and lipless crank to that point of the outing. The remainder of my day would hold thirteen more bass and not a single one while slowing down (did catch a pair on some quick pitches with a Senko wacky rig but it was what I consider a power wacky approach-pitch it, twitch it and pull it).
The Wind Taketh Away – On my third stop I nailed another bass on the Red Eye Shad which I observed to be in the four pound range. In fact, I could clearly see the fish as it ran me right around a stump on the dropoff of an underwater point. Unfortunately, the wind was blowing me away from the snagged fish (boat not anchored at the time) so I had to disengage my spool as I went for the oars to get back to the spot. In a matter of a few seconds I was back over the stump but there was no longer a bass and I could not see my lure. I gave a pull on the still taught line before employing my lure retriever and promptly broke off, thus also losing a quality lure. I was briefly bummed (more so about the bass than the lure as I had a spare) but then gave thought to the fact that perhaps I was being a little greedy as I'd already had quite a day…it happens.
And Then There Was This One – So after the flurry in the windblown cove as listed above, I continued to work my way around the second lake having no bites from similar structure on the sheltered bank. While mentally analyzing the situation I resolved that I was wasting my time on the slack water as the wind action was the key to the day's success. Well, nothing like having your daydream and your assessment of the day's pattern shattered by the Top Bass of the day at 4-13. Quite a pleasant surprise as a new lake record from a spot that you were about to vacate leaves you scratching your head with one hand and lipping the fish with the other. Simply another reason to dig this hobby.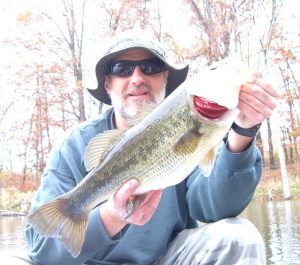 1:39pm – Top Bass at 20″ and 4-13 on a spinnerbait
The Ones That Got Away – So I lost the four plus described earlier and also had another similar fish swipe and miss my lipless crank at boatside early in the day. In addition, I had one around two and a half escape due to slack as I sat in about two inches of water after being blown into shore perpendicular to an underwater point. I took a stab at grabbing that one after the Red Eye Shad got tossed but all I got was a wet sweatshirt sleeve as he not surprisingly slipped from my grip. You know, I don't think I lost a quality fish prior to this trip all year so I suppose I was due and I can live with that.
In the end, I wound up with one of my best days ever on the water in terms of a Top 5 weight at 18-1. But you know, if I'd got the four pounder that snagged a stump, and even if the one I witnessed taking a swipe was three and a half, add that to the ones I landed…Why, I could have wound up with a twenty pound day when just shooting for one more good fish to give me a twenty pound year, that's like Bassmaster stuff right there! Not meant to be on this enjoyable day but I'll keep on casting because maybe next time…
Well, after a balmy day yesterday, next time is kind of up in the air for 2020 as the weather looks to take a dip. My sights are set on a November bass and I will certainly let you know if I get it done. Talk to you later. Troy