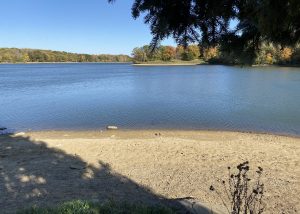 I try not to get too carried away in my fishing reports in order to keep the length of the posts fairly readable. Sometimes I succeed but most times they are still probably too long for current attention spans. Such was my dilemma with the latest Lake Storey trip so I figured it was best to split it up. Part II to follow after an important correction in the interest of literary accuracy.
Correction – I strive to get my facts straight in my posts but sometimes my useless knowledge gets a bit cloudy. Therefore, I would like to point out that my reference in a social media post direct from Lake Storey stating "Ever read that Winnie the Pooh 'Blustery Day' book?" was an error. There is indeed no "Blustery Day" book as it was actually "a 1968 animated featurette based on the third, fifth, ninth, and tenth chapters of Winnie-the-Pooh and the second, eighth, and ninth chapters from The House at Pooh Corner by A. A. Milne" per Wikipedia. Admittedly, never much of a Pooh fan anyway so not entirely disappointed in my misstatement but felt that it was important to clarify after some post trip research proved me wrong.
Additional Notes and Nonsense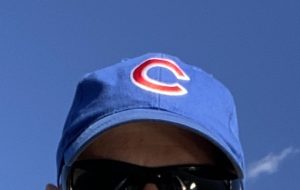 Lucky Hat – I've had some hat trouble this year causing a late season scramble for another lucky fishing lid. While the whole hat fiasco is a concept for a future post, this time I left the floppy hat on the bench. The wind was just too much for the model I'd recently brought out of retirement and the lack of a chinstrap was also a concern. Instead, I went with the baseball cap of my favorite squad hoping it would bring me some luck. As it turned out, me and some decent bass were on the same page. In contrast, the guys who get paid to wear the Cubs cap are sure missing something regarding that factor called "chemistry." Something just isn't right on the North Side and it goes deeper than the strange, abbreviated 2020 campaign.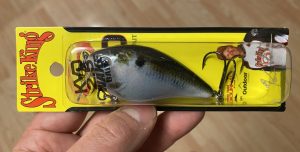 Bought this one recently with a Lake Storey plan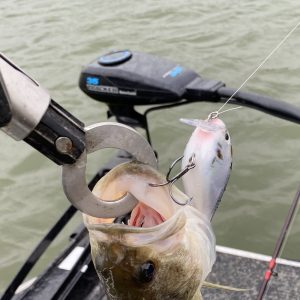 "I love it when a plan comes together" – Col. John "Hannibal" Smith
Woke – In the initial report, I mentioned picking up a new Strike King Wake Bait for several specific Lake Storey areas. The lure above was a winner with a couple bass on a couple of those precise spots.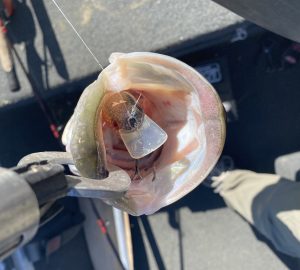 Devoured – My Top Bass of the trip left no doubt that it was intent on a meal as my crankbait wobbled past. The pictures above show that the lure was completely engulfed to the point of not being visible in profile. This was a cause for concern in extracting the bait but fortunately the trebles were not embedded in anything vital. In fact, there was no bleeding and the bass looked to be in good shape as it swam back into the depths (see clip below).
Lakeside Chat – I had texted my friend and fellow Lake Storey angler, John Kirkemo, shortly after I got on the water and he mentioned that he may stop by later for a visit. John dropped in mid-afternoon and we had good chat on a stretch of dry exposed lakebed. We text or email fairly frequently so it was good to have an in person (socially distant) chat. Turns out the timing was kind of cool too as I managed to hook my Top Bass after our visit while John was still within sight. He even shot a few pics of my fish from his vantage point which I have included in a post catch slideshow below.
Time will tell if this is the final first hand fishing report for 2020. I do have a couple more vacation days that I have to use and I aim for catching at least one November bass so we'll see. Got some other stuff to keep the blog rolling though so hope you'll continue to stop in for a look. Talk to you later. Troy