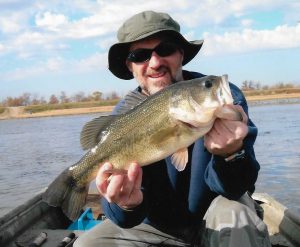 It's once again that time of the year when I hold out hope for a November bass before I put the poles away. Ten years ago, I got that November bass after barely ten minutes of casting on a magical place called "Emiquon." The rest of the day wasn't quite as easy as the original report relates.
Originally Posted 11-8-10
My quest to finish the year with a November bass found me on what has rather quickly and a bit surprisingly become a challenging body of water, The Emiquon Preserve's Thompson Lake. Dad decided to sit this one out so I was on my own to figure out the bass. I accomplished my goal upon reeling in our second largest ever Emiquon bass but overall it was a tough day.

Date: November 3, 2010
Time: 11:30am-5:30pm
Location: The Emiquon Preserve
Weather: Sunny or partly cloudy/windy
Air Temp: 50-60F
H20 Temp: 50F
Totals: 3 bass
Lures: 3" Yum Wooly Curltail (pumpkin pepper/green flake) – 3 bass
Top Bass – 3-5 Yum Wooly Curltail (first bass of the day)
Top Five Weight: 5-14 (3-5, 1-7, 1-2)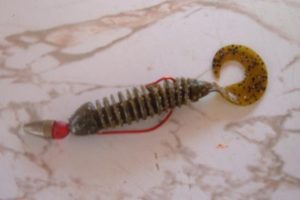 Yum Wooly Curltail, classic cold water bait, cast it out, crawl it in
Notes and Nonsense
Thriving – If I were pressed for one word to describe the Emiquon coot population I'd have to pick "thriving." Beyond that all I can say is you have to see it to believe it.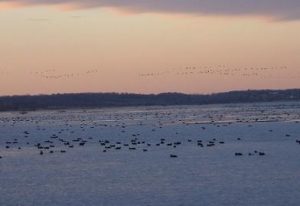 A commotion of coots (I had to look that one up)
5 Hours & 50 Yards – Those are the figures that separated my bass. I caught my first (and largest) bass near a tree on an old roadbed at 11:41am. I did not catch another fish until 4:46pm about fifty yards to the east and my final fish came at 4:58pm in the same spot. In between the first two fish I covered several miles in order to work a pair of ditches using up our older battery in the process; all without a single bite.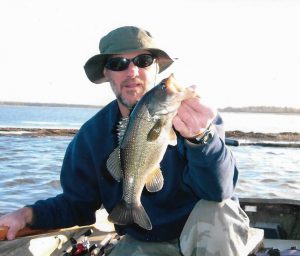 4:46pm – Bass #2 after a lengthy drought at 13.5″ and 1-7
Not Alone – I didn't know what to expect as far as company this time of year but there were about half a dozen other fishermen who hadn't yet put away their gear. I spoke with a pair who was leaving as I was launching and they reported a shutout in their pursuit of bass and crappie. A few minutes later I witnessed a fellow in a kayak land what he said was his first bass in about two hours on the water. So when all was said and done I was confidently able to blame the bass as opposed to my ineptitude.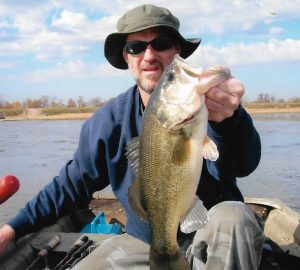 11:41am – Top Bass at 18.5″ and 3-5 
Top Bass – Eleven minutes into my trip I was weighing, measuring and photographing the fish pictured above (pictured above twice actually as a three fish outing can make you a bit desperate). It came on a 3" Yum Wooly Curltail rigged Texposed behind a ¼ ounce bullet sinker which was slowly crawled back to the boat in an effort to maintain contact with the lake bottom. The 3-5 currently occupies the number two spot in our Emiquon record book. A nice fish but rather amazing that it comes up nearly four pounds shy of our 7-3 lake record.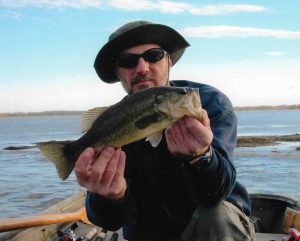 4:58pm – Bass #282 for the year, the final catch of 2010
If this trip marks the end of my fishing for 2010 I'd have to qualify it as another good year for family and friends marked by a strong last few months. I did manage to find one more quality fish while quantity eluded me on this latest outing. Perhaps most of the fish are wise enough to reside beyond the "No Trespassing" area at Emiquon. If so they are certainly safe from my offerings, although not from everybody. But that's another story.
Ten years later, I have my November bass in the log courtesy of some good weather and a vacation day. But that's also another story so stay tuned. Talk to you later. Troy