Reading on social media of the early season success of other anglers sure had me chomping at the bit to get on the water. Unfortunately, it took until the first day of spring to get an opportunity. The weather was pleasant and one of my brothers was free, so we had a mid-afternoon meet up at some old stomping grounds to bike and hike. We didn't find many bass who were as enthused as us, but any day on the water is a good day.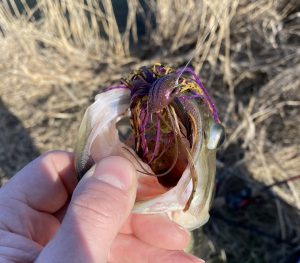 A jig is a winner this time of year
Stats
Date: March 20, 2021
Location: Snakeden Hollow (4 lakes)
Time: 3:00pm-6:45pm (3.00 hours fishing)
Weather: Sunny/windy
Air Temp: 56F
Water Temp: no reading
Totals: 3 bass
Lures: Rapala Shad Rap (shad) – 2 bass, Googan Squad Gridiron Jig (PB&J) – 1 bass
Top Bass: 1-10 Shad Rap
Top 5 Weight (only 2 at 12" or better): 2-11 (1-10,1-1)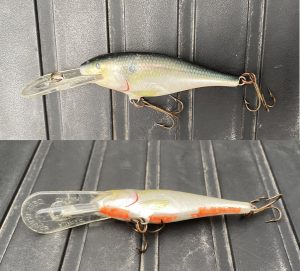 The winning Shad Rap from the "lost and found" as noted later in the report
Trip Lyric
"It's kinda like a lost and found in a border town…" – Lost and Found, Brooks & Dunn (1991)
Notes and Nonsense
First Bass – Tops on my list for this trip was a revisit to a spot where I lost a good one last summer. It is a lake that I hadn't fished much in recent years as I found it to be largely populated by small bass. But that one bite last year was an eye opener as at least one of the residents had grown up. Well, I didn't find the one that got away and it took close to 40 minutes of casting but I did get my first bass of the year. Always good to get that first bite no matter the size and to get back on the board after 107 long days without a bass (12/3/20 at Lake Fork, TX).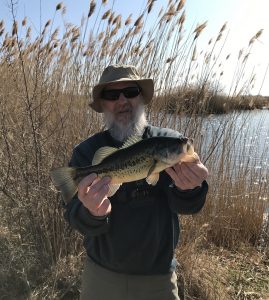 On the board with the first bass of 2021
Recovered Rapala – I figured that at some point I would likely employ a Rapala Shad Rap to fool some cold-water bites. Instead of my customary blue pattern, however, I opted for a shad-colored bait. The lure was actually one that I had found tangled in a rocky bank last October on a family hike around Sylvan Island in the Quad Cities. I thought, wouldn't it make a good fish story to catch some bass on a lure from the local "lost and found." My first two bass turned that vision into a success story.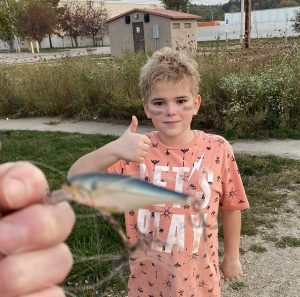 October 2020 – A Sylvan Island find (the bait, not the boy)
Close Shave – Earlier this month, I told Julie that I was waiting to shave my beard until I landed my first bass of the year. Let's just say that she might have been more eager for me to get on the water than I was. So, after landing my first bass I sent her a pic to "brag", completely forgetting my previous promise. In return, she responded with the pic below. And, yes, I did follow through in discarding most of the shaggy mess.
The Question – My youngest boy, Zac, likes to hit me up on occasion with a repeated fishing question. Offered up with a bit of a grin, it goes something like this, "Dad, who is a better fisherman, you or Uncle Brent?" I grin a bit too while seeking creative ways to avoid a definitive answer as it is indeed a complicated query. Kind of like when he asks the "Dad, who is your favorite kid" question. In the end, the best I can do is state that it depends on the day. Let's just say that on this trip the bass took a bit more of a liking to Dad rather than Uncle Brent.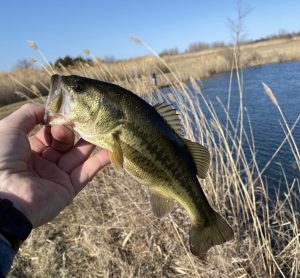 Bass number two with my fishing partner in the background, get 'em next time
Great to get on the board and enjoyable to wander some familiar turf with my brother. I hope to do it again as the year progresses as I tossed about some fishing adventure ideas that walk the fine line between epic and foolish. Stay tuned and talk to you later. Troy