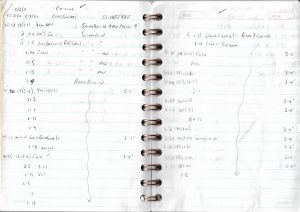 I always enjoy looking back at a place called "Emiquon." This incredible fishery opened to public access in 2009 and the bass fishing was like nothing we'd ever seen or likely will ever see again. Below is an original post from May 5, 2011 detailing an outing from 10 years ago this week.
My brother, Brent, and I weren't sure what to expect on our first Emiquon journey of 2011. The craziness of 2009 had ebbed somewhat in 2010 and this year's wacky weather had me worried about whether he was wise to take a half day of vacation. However, it's tough to not feel some extra excitement when taking on this unusual fishing hole. Here's a bit of a different approach to my report from a bit of a different lake.
Stats
Date: May 2, 2011
Location: The Emiquon Preserve
Time: 12:30 pm-6:45 pm
Weather: Overcast/windy
Air Temp: 53-56F
Water Temp: 58F
Totals: 36 bass (Brent- 22, Troy- 14)
Lures: Tandem Spinnerbait (brown/orange) – 21 bass, Quad Shad Spinnerbait (white/shad) – 12 bass, 3" Yum Wooly Curtail (green pumpkin green) – 2 bass, ¼ oz Jig (black/chartreuse) with split double tail trailer (black) – 1 bass
Top Bass: 2-12 (Troy – Yum Wooly Curltail)
Top 5 Weight: 11-10 (2-12,2-5,2-5,2-3,2-1)
Chronology of the Catch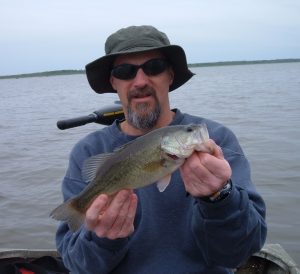 12:53 pm – I get us on the board with a 13" (1 lb 3 oz) fish on the Wooly Curtail worked around some flooded trees. The bass comes out of four feet of water in a narrow ditch that runs through an expansive one to three foot deep flat.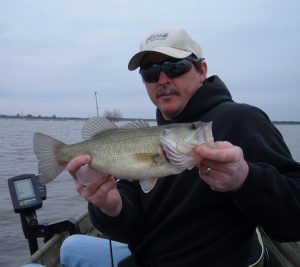 1:08 pm – Brent gets on the board with a 1-5 on his Emiquon Special, the same spinner bait that pushed him within two bass of the century mark back on October 7, 2009.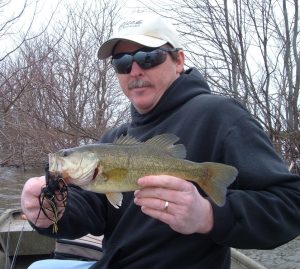 1:39 pm – Brent scores on a jig and plastic off a tree in a spot that is tailor made for the presentation as seen in the above photo.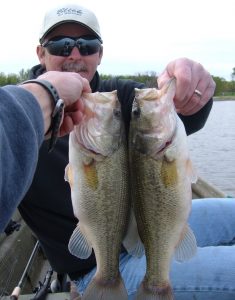 2:37 pm – Brent lands another standard issue on the Emiquon Special prompting him to comment, "What've they got some kind of cloning program going on down here?"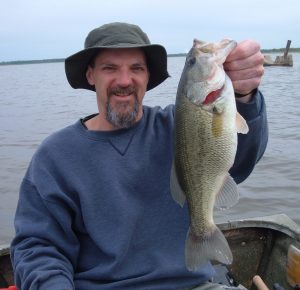 4:00 pm – After three fishless and frustrating hours for me, I finally get another on the Wooly Curtail and the 2-12 will turn out to be our Top Bass for the day. At this point, Brent has a six to two lead since I'm running the trolling motor (he might also be a better angler most days). It's been a rough start but Emiquon is about to show what it's made of with a second half surge.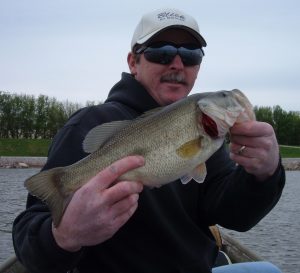 5:04 pm – Brent lands his heaviest fish of the day, a 2-5 on the Emiquon Special, of course. The lure is tough to beat as he winds up having me down 15 bass to 3 before I find a spinnerbait that will fool a few.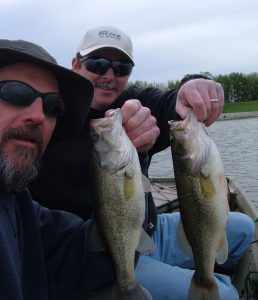 5:44 pm – Seconds after I hoist my 1-9 into the boat Brent nails a 2-1 for a "double" and a challenging photo opportunity.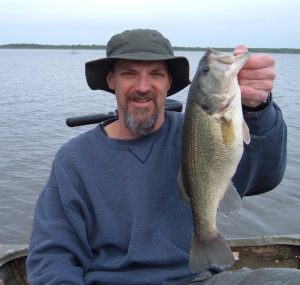 5:55 pm – A 2-5 makes it a pair of two pounders in a row for us as I'm beginning to make up some ground.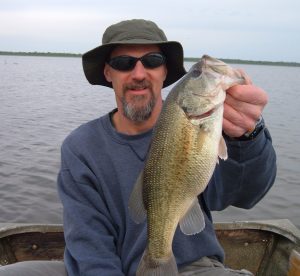 6:03 pm – My 2-3 makes three consecutive two pounders but I'm still trailing 20 to 9.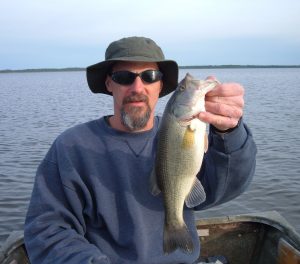 6:24 pm – The above specimen wasn't anything to brag about but I wanted a picture with a bass while the sun was shining. What were the odds of catching one during that approximately five-minute span?
6:44 pm – Brent lands a bass on his final cast as we set a departure time at 6:45 pm. I wanted a picture, but the bass was released before I got a chance as I was desperately trying to get bit before my watch turned to 6:46 pm.
Emiquon is now a mere shell of its former self as site management steered away from preserving the incredible fishery. While there's plenty to debate regarding the decision, for today it's all about what was rather than what is and what could have been. My, oh my, was it a blast while it lasted. Talk to you later. Troy