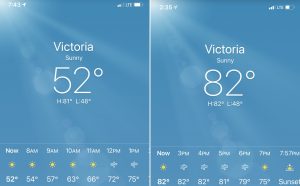 Hard for me to believe that it is May already and what better way to kick off the month than with a hike around the strip mines. I was able to hit the water last Saturday morning where I was greeted with some cool temperatures and ugly winds. But you get what you get, and you don't throw a fit as you can't control the weather. Read on for the scoop.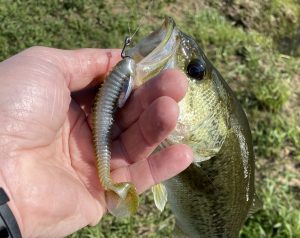 8:38am – first bass and first swimbait catch
Stats
Date: May 1, 2021
Location: Knox County, IL public strip mines (6 lakes)
Time: 8:00am-12:35pm (4.00 hours fishing)
Weather: Sunny/very windy
Air Temp: 52-75F
Water Temp: not available
Totals: 11 bass
Lures: Bass Pro Shops Speed Shad (small mouth magic) with Berkley 3/0 weighted swimbait hook – 5 bass, Senko weighted wacky rig (pumpkin/black/green flake) – 2 bass, Strike King Red Eye Shad (sexy shad) – 2 bass, Zara Spook (natural frog) – 1 bass, Rapala Shad Rap (shad) – 1 bass
Top Bass: 1-11 Zara Spook
Top 5 Weight (only 4 at 12" or better): 5-2 (1-11,1-3,1-3,1-1)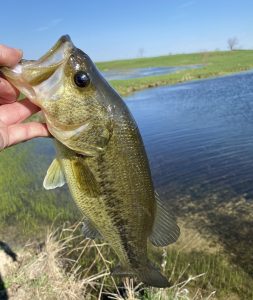 9:02am – Top Bass 1-11 on a Zara Spook
Notes and Nonsense
Blow Away – The wind was crazy on this outing at 8:00am when I started casting and got stronger as the day progressed. Wind can be your friend in helping to position some fish, but that aspect wasn't particularly pronounced on this outing. Wind can also be a challenge in hindering casting and maintaining a feel for some presentations. Like any day on the water, there are numerous variables to take into consideration and adapt accordingly. Fittingly, I also heard George Harrison's 1979 Top 20 hit "Blow Away" on the drive to the fishing hole.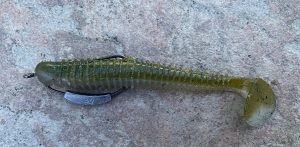 Taking my shot and joining the swimbait craze
New Trick – I struggled for about the first 40 minutes of casting with nary a bite, cycling through several solid, proven lures in the process. The chatterbait, Red Eye Shad lipless crankbait, a jig and craw and a Shad Rap had all failed to produce, so what to do next? Over the winter, I had picked up some Bass Pro Shops Speed Shads while visiting the business' East Peoria, IL location. Despite being a challenging presentation in the high winds, I tied one on with a Berkley Fusion 19 3/0 hook and tried my luck. Several minutes later, I had my first bass of the day and first ever on such a lure.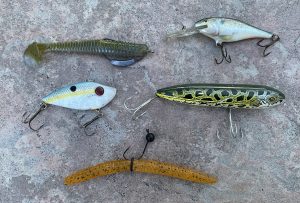 The arsenal mixed new with old and older
Old Trick – In contrast, I later threw a Zara Spook, a lure that I first fished nearly 35 years ago. I had packed a couple along on this trip after reading many reports of a topwater bite while perusing several regional fishing groups on the internet. However, the strong winds weren't exactly ideal for such a presentation. But stubbornness, faith in my lure and a bit of desperation at my lack of bites led to me giving it a shot. While I only caught one bass on the lure, it wound up being my Top Bass of the day. It was caught as a result of plenty of years of practice as I tried to fool a semi-interested bass. I spotted the fish on a shallow flat and it took a look at my first pass without committing. Therefore, I elected to increase the speed and commotion of my retrieve on the next cast in hopes of provoking a reaction bite as the faster moving lure doesn't give the fish the luxury of a lengthier analysis. Right on cue, the bass struck the lure but missed getting hooked. Bingo, I knew the fish would bite and hoped another pass would result in better aim. The rapid, loud retrieve did the trick on cast number three and those 35 years of Zara Spook fishing paid off with a solid and rewarding catch.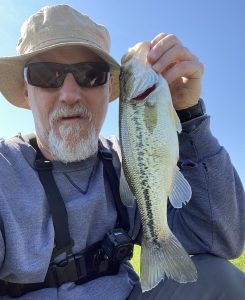 10:38am – Top Bass Runner-Up 1-3 on swimbait
Same Old, Same Old – I ended my day on a spot that I call Maiden Lake as it is the first lake that I ever fished on this batch of strip mine waters. My largest bass on the lake was the first fish I ever caught there and came in just shy of two pounds. In the years since, all I have been able to manage during my occasional stops has been an endless parade of 8-11" bass. However, witnessing my brother, Brent, reel in a four-pounder last month sure got my attention. His catch proved that there was at least one quality fish that called it home and hopefully more as there is plenty of water. I spent close to an hour on a few stretches of windblown bank and guess what? Three bass between 8-11", surprise, surprise. However, one of these less windy days with a bit of cloud cover, I'm going to put the old Zara Spook to work on Maiden Lake and see if that approach can weed out the little ones and get me some quality bites.
Interesting day with big sun and big wind as I made my way around a half dozen of my target lakes. Due to time constraints, I skipped over one other spot but overall was pleased with my gameplan and decision making during a morning where I had a time limit due to real life responsibilities. My brother later reported a near four-pounder on that spot but apparently in spawn mode as no interest in biting. Those bass are out there, just boils down to outsmarting them. Definitely an important aspect of what this fishing hobby is all about but always fun to get out there and take your shot no matter the results. Talk to you later. Troy