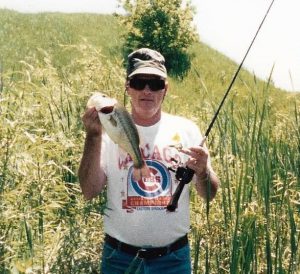 May 24, 1991 – Dad on a Snakeden hike 
Today's flashback is actually drawn from a pair of visits to Snakeden Hollow with vastly different approaches to chasing some bass. First up is a walk-in trip with Dad back on May 24, 1991. At the time, Dad was in his late forties while I was in my mid-twenties. I invited him along on one of my strip mine adventures and we racked up more than a few miles and reeled in more than a few bass. At the time, Dad had also come out of retirement to play a season of softball with me and my brother, Brent, and we had a game that evening. That combo of activity prompted Dad to "retire" from any future strip mine hikes and he also hung up the cleats after the softball season.
Over the years, there have been many more trips to Snakeden with Dad, but they have been spent on Lake McMaster while casting from the luxury of a Bass Tracker. Twenty years after the walk-in trip was one such outing as detailed in the original blog post below.
Originally Posted 5-20-11
Following a somewhat self-inflicted hiatus, it was time to see if I had my sea legs back.
Dad and I hit Snakeden's Lake McMaster yesterday for some overdue bass fishing. In fishing report terms, I would describe bass as "fair on soft plastics." However, I have the liberty of getting a bit more long winded, so here we go.
Stats
Date: May 19, 2011
Location: Lake McMaster – Snakeden Hollow
Time: 9:50am-3:20pm
Weather: Sunny to partly cloudy/breezy
Air Temp: 55F-72F
Water Temp: not available (wiring problems)
Totals: 13 bass, 1 crappie (Dad – 10 bass, Troy – 3 bass, 1 crappie)
Lures: 5" Yamasenko (natural shad) wacky rig – 12 bass, Vicious Muskrat (green pumpkin) with ¼ oz bullet weight (brass) – 1 bass
Top Bass: 1-9 (Dad)
Weight (4 bass > 12") – 5 lbs. 5 oz (1-9, 1-6, 1-6, 1-0)
Chronology
9:40 am– Arriving at the lake we are caught off guard by ten other trailers in the parking lot and another boat launching in our wake. I can't recall ever seeing that many boats on the water, but I hope it means that the bass are biting.
9:50 am – Strangely enough as I mentioned in a posting last Friday, the kiss of death is a bass on your first cast. I pull this stunt on a point just west of the ramp but lose the pound and a half fish at the boat. I'm hoping the quick release fends off bad luck as it doesn't technically count as catch in my book. I'm wrong.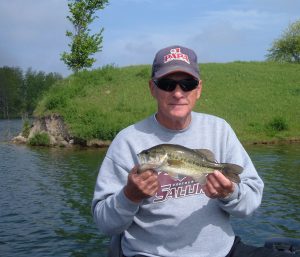 9:58 am– The 9.9 motor is being stubborn, so we loiter within spitting distance of the ramp for a while where Dad gets us on the board with a 1-0 on a Senko (pictured above).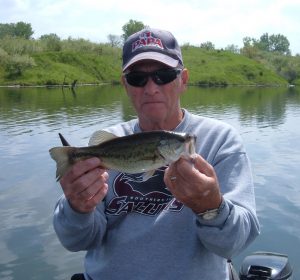 10:42 am – Shortly after arriving at one of our best areas, Dad's Senko comes through again.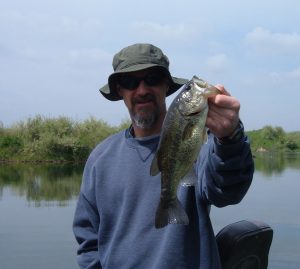 11:05 am – I'm off the snide with a 1-6 on a Senko and breathing a sigh of relief that I won't get shut out on such a beautiful day.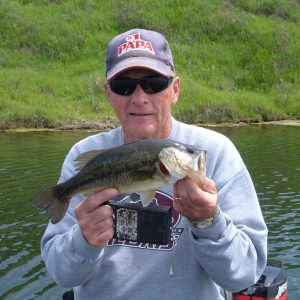 11:29 am – Dad picks up what will be Top Bass with a 1-9, once again on the Senko, the only lure he'll need all day.
12:34 pm – Dad misses a short bass, but it comes back into view right near the boat prompting him to drop his Senko in front of its nose. We get an awesome bird's eye view as the bass flares its gills to inhale the lure a second time and remains hooked.
1:22 pm – My second fish of the day gives me the species title as a fifteen-ounce crappie likes my Senko, a photo worthy accident for me.
2:22 pm – The One That Got Away on this trip belongs to Dad and likely would have tipped the scales in the two-and-a-half-pound range. Usually, these bass can be as large as you want but the gin clear water at this lake keeps you pretty honest if you're not fishing alone. The clear water is also cool because I was able to give Dad play by play from my angle as I commented "Here comes a good one" followed by "He just took your bait." While this one did get briefly hooked, I have sometimes been guilty of jumping the gun and pulling the lure away from the fish in anticipation of an impending strike.
2:26 pm – It only takes four and a half hours to land my second bass, a short fish on the Muskrat. It's a textbook bite as the bass hits just after I'd bounced the bait over a log in about ten foot of water and is the lone fish caught on something other than the Senko.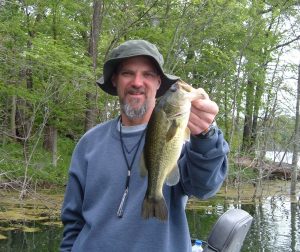 3:01 pm – My final fish hits a Senko pitched into a hole in the moss over a spawning bed. The lure hit in the back of the hole and fell under the canopy in front with the bass in pursuit. It was impossible to tell if the fish had the bait or not, but I figured it was worth a hookset. The resultant splash and resistance showed that I made the right decision. The fish was released to resume its biological duty but not before getting a picture for the blog.
3:33 pm – We did make a few casts beyond 3:20pm as we waited our turn to trailer the boat. Dad made the time count as the point west of the ramp came through yet again and gave him a commanding ten to three margin of victory, but who's keeping score anyway?
For some final comments we did see plenty of crappies in the shallows, I talked to some walleye anglers who saw a fish in the 27" range and muskies failed to make an appearance for us this time around. We also lost over half a dozen bass that just didn't stay hooked for whatever reason. But fishing is always interesting as Dad and I threw the same Senko around most of the day and his outperformed mine ten to two. Perhaps it was his bait spray that he referred to as "lotion" at one point or maybe his plain hook was more appealing than my red hook. It was just all part of the fun during a great day to be on the water. If anyone out there reading was on Lake McMaster too, drop us a comment about how you fared. Don't worry, I can take it as getting outfished is no disgrace even if it is by the guy in the back of the boat (especially if he's your dad).
Dad lasted longer than me on the diamond as I gave it up before hitting my thirties. But I'm still going strong on the strip mine hikes as the mid-fifties approach. And as a duo, we're still catching some fish from boat or bank. Talk to you later. Troy