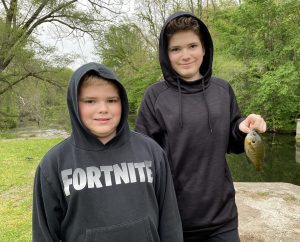 Me and my boys were looking to make some casts, but we did not have enough time on a Sunday afternoon/evening to make the drive to our regular stomping grounds. Instead, it provided an opportunity to look around at some local Quad City fishing holes, which is something I've wanted to do for quite some time. We took a shot at a pair of destinations, spending about a half hour at each spot to see what we could learn. We did our searching with a Senko wacky rig and waxworms hung from a slip bobber. Read on for the stats, a classic Trip Tune and the lessons learned.
Stats
Date: May 16, 2021
Location: Prospect Park and Hennepin Canal
Time: 3:30pm-6:00pm (one hour of fishing, see below)
Weather: Overcast/breezy
Air Temp: 68F
Water Temp: not available
Totals: 6 bluegill
Lures: Waxworms on a 1/16 oz. jighead hung from a slip bobber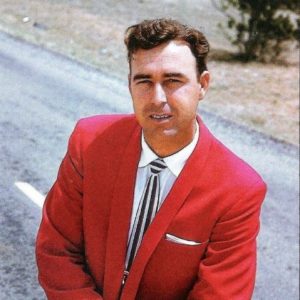 Trip Tune
"Sink the Bismarck" – Johnny Horton (1960)
My boys could actually care less on this tune as they were goofing off on the ride, but you can sure bet that I was singing along. I dig some Johnny Horton as it takes me back to my childhood and some old 45 records. My folks had "Sink the Bismarck" and my cousin Ronnie's house had "The Battle of New Orleans", absolute classics. Of course, I later discovered "North to Alaska", "When It's Springtime in Alaska" and more, awesome cuts.
Lessons
If you don't learn something new from each fishing trip, you aren't paying close enough attention. Here's the list from our adventure.
Bait – We ran out of our old waxworms and the reliable Carbon Cliff baitshop was closed, prompting a search. The Shell station in Colona was a winner after the 7-Eleven came up empty although they did have a bait cooler with some dew worms.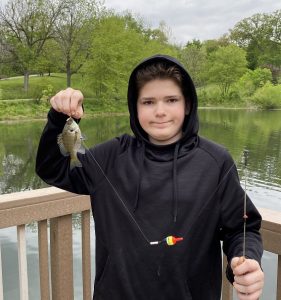 Spoiled – Much of my time on the water is rather isolated and affords a measure of privacy when nature calls. To paraphrase Shakespeare, "All the world's a bathroom" out there on the strip mines. The spots we fished on this outing, however, were crawling with people which posed a bit of an issue for the fifty-something boy on this trip. All's well that ended well (barely) with a pit stop at home on the way to find more waxworms. However, the boys delighted in talking of flowing water, a big iced tea, and waterfalls during that leg of the journey. Good to know, that my boys will be boys.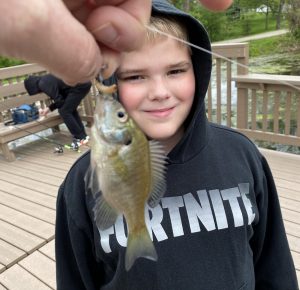 Prospect Park – Little bluegills were the catch and I saw some bass in there that were as small as minnows at the local baitshop. First impression left much to be desired but perhaps the big ones were just smarter than us.
Hennepin Canal – We hit a spot in Colona that afforded a bit of space among several other anglers. It was our second choice as the first was quite crowded which did not surprise me in the least on a pleasant Sunday evening. The canal did produce a few decent bites and there are many more miles of water to explore on the historic corridor. A stretch to the east is on my radar and we are looking to explore in that direction later this spring.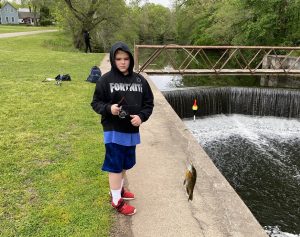 Practice – There is only one way to get the hang of casting in close quarters and it's called "practice." One of the youngsters on this trip got in such practice. If you recognize any of the background scenery in some of the photos, there is a Senko for you up in a tree across the canal. I mean, way up in a tree. In addition, there were a few casts that I have no idea how the lure was rescued. That's part of practice, too.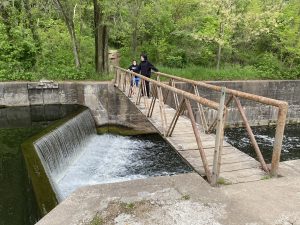 An entertaining afternoon/evening adventure with my boys that consisted more of just hanging out than actually fishing. All good, as it is always fun to break the kids up a bit to get some two on one time as a parent of four. I have a couple prospects on fishing before the end of May so here's hoping that they pan out. Talk to you later. Troy