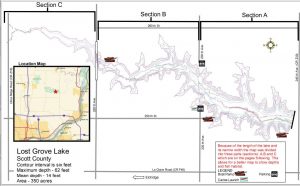 Today's flashback takes me across the river for what was my first ever trip to Lost Grove Lake. Plenty of water, plenty of weeds and plenty of bites on this outing, just couldn't fool any real quality bass.
Originally Posted 6-29-16
I took the plunge and invested $44.59 (with fees) for an out of state Iowa fishing license to take a shot at some relatively new water in nearby Scott County.
Stats
Date: June 19, 2016
Location: Lost Grove Lake, IA
Time: 4.75 hours
Weather: Sunny/breezy
Air Temp: 72 to 85F
Water Temp: No reading
Totals: 19 bass
Lures: Senko wacky rig (green pumpkin black flake or natural shad) – 17 bass, Booyah Buzz Buzzbait – 1 bass, Strike King Red Eye Shad (sexy shad) – 1 bass
Top Bass: 1-9 (Senko)
Top 5 Weight (only 2 at 12" or better): 2-11 (1-9,1-2)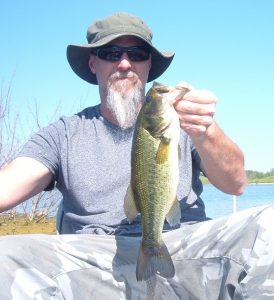 9:51am Top Bass at 1-9 and 14.5″ on a Senko wacky rig
Notes & Nonsense
Small Bites – In addition to the small bites from the bass, the size of the lake coupled with my modest watercraft setup means that I must chop the lake up into manageable pieces. My plan is to hit five or six different sections of the 390-acre body of water as I rack up visits and eventually get a look at the whole thing.
Topography – I have managed to secure a decent topo map of the lake from somewhere on the internet so it is cool to get look at what is going on below the surface in terms of contours and some manmade structure items. However, there are a few issues with my cut-rate depthfinder setup and GPS from my phone. A work in progress quite unlike my normal stomping grounds that are rather familiar after twenty five or thirty years of acquaintance.
Not Much of a Boat – As I was casting around some flooded bushes near a walk-in access area a couple fellows on the bank looked my way and one of them said, "That ain't much of a boat" to the other guy. Glancing around the crowded lake that Sunday morning I counted six other watercraft including a couple tricked out bass boats: 250HP, Power Poles and so on. Easily over $100,000 of fishing equipment within view certainly lent credence to his observation. I also got to hear the same guy say, "Hey, he got another one" as I landed a pair of bass while they were watching including the 1-9 pictured above. I'm sure they meant no offense in their evaluation of that old 8' johnboat and I took none, just got a laugh knowing that you can't judge a book by the cover.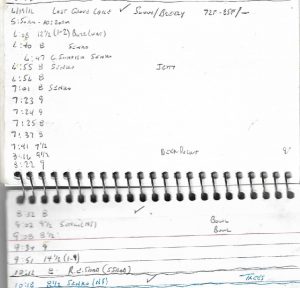 Several more trips over the years to Lost Grove have been hit or miss for me with most outings taking place in the heat of summer. I've found decent numbers but haven't managed to fool much over two pounds. From internet reports and a couple firsthand observations, I know there are some good bass in there. I guess so far, the Iowa fish have outsmarted this Illinois boy. I haven't purchased an Iowa fishing license this year and may just stick to some Prairie State waters, old and new. Talk to you later. Troy