A weekend camping trip along the historic Hennepin Canal afforded the opportunity to make a few casts. The heat was on with a blast of summer weather a few weeks early, but a handful of fish made it worth our while.
Stats
Date: June 5, 2021
Location: Hennepin Canal – Henry County, IL
Time: scattered during afternoon
Weather: Sunny/breezy
Air Temp: 90F
Water Temp: not available
Totals: 3 bass (Troy – 2, Jayce – 1), 2 bluegill, 1 pumpkinseed
Lures: 5" Yamasenko wacky rig (various colors) – 3 bass, Waxworms on a 1/16 oz. jighead hung from a slip bobber – 2 bluegill, 1 pumpkinseed
Top 5 Weight: 2-11 (1-10,1-1)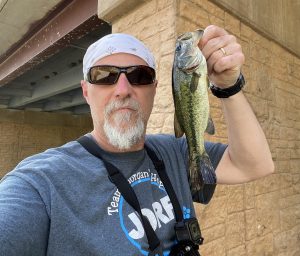 No giant, but my first Hennepin Canal bass was still rewarding
Notes and Nonsense
Paddle Fishing – A midday canoe rental found me, Carly and Jayce paddling through the weed choked waters in the 90-degree heat. We had a goal to reach a nearby lock and an hour to make the round-trip. Reaching the lock, I figured that we had time for some casts in the open water of the deeper pool and the first cast was a winner for my boy, Jayce. A solid canal catch made for some smiles, some excitement, and a proud dad before we turned around for the return paddle to the launch.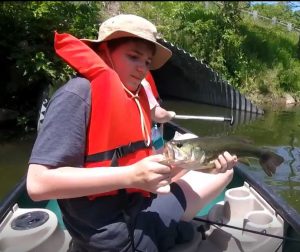 Jayce actually claimed the first Hennepin Canal bass for our family
New Species – Later in the afternoon, I tried my luck from the bank armed with a Senko for bass and some waxworms for panfish. Along the mossy bank of the canal, I found a couple open spots with a batch of panfish on beds. While they weren't very cooperative, I did manage to fool a few, including my first ever pumpkinseed. This attractive member of the sunfish family was a cool and unexpected catch.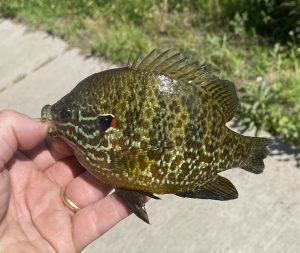 Going to have to add a new column to my spreadsheets for a new species
Top Bass – As my limited casting time window was winding down, I spotted a decent sized drum cruising in and out of sight in front of me. I dropped the Senko and waxworm in its vicinity numerous times along with reeling a crankbait past but not even a glance from my quarry. With only a few minutes of fishing time remaining, however, my Senko got a thump and a decent bend in the rod when I set the hook. For a moment, I thought the fight is on with my sought-after drum, but the catch turned out to be a 1-10 bass instead. All good.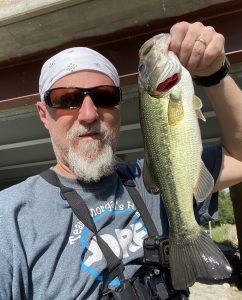 Top Bass at 1-10 and I know where some bigger ones live now after a little scouting
Overall, a fun hour or so fooling around on some new water. I also made a few discoveries along the way that may bring me back to the canal with a few poles in the future. Plenty more to the weekend family adventure but those are tales for another post or two. Talk to you later. Troy