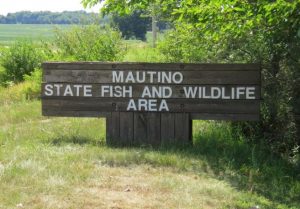 Mautino State Fish & Wildlife Area re-opened last summer after many years of significantly limited access due to much needed interior road repairs. While I didn't manage to get over there last fall, this past weekend presented a few open evening hours and I decided to give the site a look. I had not fished the area for five years and had high hopes that I would encounter some solid, uneducated bass.
Stats
Date: July 3
Location: Mautino State Fish & Wildlife Area – Bureau County
Time: 6:15pm-8:45pm
Weather: Sunny/breezy to calm
Air Temp: 81F
Water Temp: not available
Totals: 9 bass (2 lakes)
Lures: 5" Yamasenko wacky rig (various colors) – 4 bass, Strike King Red Eye Shad (sexy shad) – 2 bass, Booyah Buzzbait (salt and pepper) – 2 bass, War Eagle Spinnerbait (white/chartreuse) – 1 bass
Top Bass: 0-14 (Buzzbait)
Top 5 Weight (only 1 bass at 12" or better): 0-14
6:21pm – First bass, hoping they'd get bigger, didn't really happen
Notes and Nonsense
Anticipation – On my last three visits prior to the closure of nearly the whole site back in 2016, I managed a decent Top 5 collection that pushed 13 pounds. Thus, my anticipation was riding high on the ride to the fishing holes. After all, a lot of the fish had not seen many lures over the last five years. Well, the larger fish weren't quite as dumb as I'd hoped as my lone "keeper" was a 13.5" bass on a buzzbait.
Changes – Of the two lakes that I opted to fish, one was much murkier than the "old days" while the other remained just as murky as it always was. A few other waters were observed from the road and seemed to be the same as I recalled in terms of clarity and aquatic vegetation. I spotted several bank anglers, three trailers at three different lakes and a pair of kayakers on a spot with a rudimentary ramp. The latter approach is certainly a change as those personal watercrafts have really taken off in the last several years.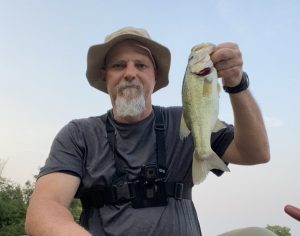 8:19pm – Last bass of the evening was Top Bass at 13.5″ and 0-14, a tough outing
Stocking – My hopes were that during the downtime in fishing access that fish stocking would continue or perhaps kick up a notch on the site. In checking the IDNR info, it looks like a modest stocking program occurred during the site closure but nothing that really seemed to give the site much of a boost, particularly in terms of my favorite pursuit, the largemouth bass.
So much for my triumphant return to a couple of Mautino's fishing holes. I'll chalk it up to the dog days of summer getting an early start as the weather conditions were quite balmy. In addition, a small sample of a few hours on the water may say more about the fisherman than the fish. Perhaps I'll be back for a second chance in the fall to see if we get along better.
Time will tell. But, hey, the roads are nice. Talk to you later. Troy