Once upon a time, I lived at Lake Bracken, a country club located south of Galesburg, IL. It was quite the luxury to have a 170-ish acre lake literally in my backyard and The Spillway just a few minutes' drive down the road.
In the case of today's flashback, I actually took my shot at both the lake and The Spillway on the same day.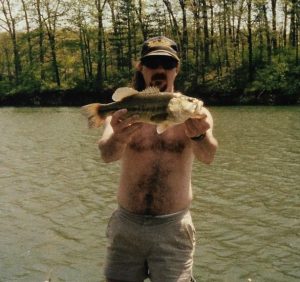 July 1996 – Lake Bracken 3-8 bass on Mann's Baby 1- crankbait
For the lake portion of the trip, Dad brought out the Bass Tracker to chase some bass. This trip took place during that unexplained period where I seem to have failed to keep a log. Therefore, the only documentation from the outing is the picture above. Apparently, we only landed one quality bass worth a picture although I suspect we caught some other fish. I still hold out hope that there is a missing fishing log tucked away somewhere but the odds are slim.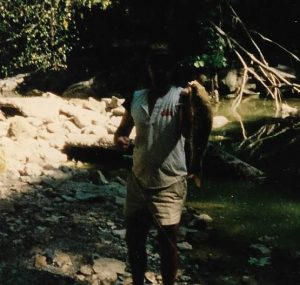 July 1996 – Lake Bracken Spillway 5-12 Carp
The latter portion of the day consisted of a visit to The Spillway, a location that has already appeared in several Friday Flashbacks. Once again, no log means that the only evidence is a pair of carp pics. I cannot recall who I was fishing with that afternoon, but it seems that my photographer got shut out.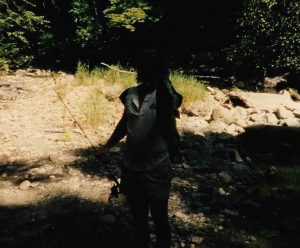 July 1996 – Lake Bracken Spillway 6-9 Carp
In terms of the photos, these were taken with the old Minolta Disk camera meaning there were no do overs. An unfortunate aspect in retrospect. For one, the lighting on the carp shots leave much to be desired, certainly worth a re-shoot in today's world of instant digital feedback. Regarding the bass photo, perhaps I would've considered putting on a shirt for a better shot. Much younger and a less self-conscious back in those days, I guess. While I did slim down a couple years ago, I think my topless pics are a thing of the past. Especially after this whole pandemic thing got me rather lazy and as a result, rather large around the mid-section.
Need to work on that. Perhaps an uptick in strip mine walks and canal bike rides could kill two birds with one stone. Talk to you later. Troy