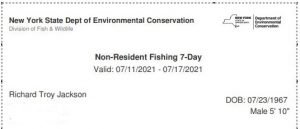 The Permit
Work took me to the Buffalo, NY area this week and as I needed to haul a batch of IT equipment, I drove. Fortunately, there was some extra room in the vehicle, so I packed along some fishing gear as well. With a little internet research and a NY non-resident permit, I was off at 5:00am Sunday morning with hopes of some evening casts and beyond.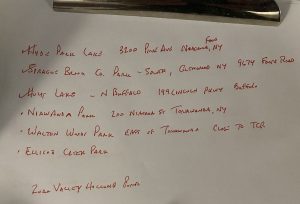 The Plan
Stats
Date: July 11-14, 2021
Location: Buffalo, NY area (3 locations)
Time: Evenings (6.00 total hours)
Weather: Everything
Air Temp: 80s
Water Temp: No reading
Totals: 7 bass
Lures: War Eagle Spinnerbait (white/chartreuse) – 5 bass, 5" Yamasenko wacky rig (pumpkin with black flake) – 2 bass
Top Bass: 4-10 (Spinnerbait)
Top 5 Weight (only 3 at 12" or better): 7-0 (4-11,1-7,0-14)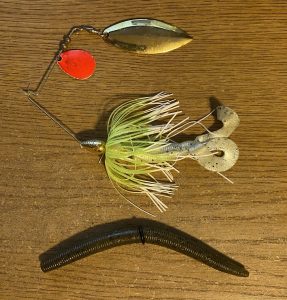 Trip Lyric
"Back in the New York Groove"– New York Groove, Ace Frehley (1978)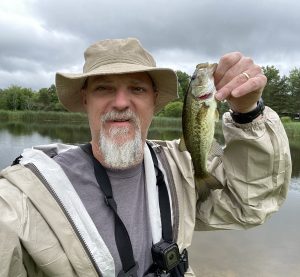 July 11 – Sprague Brook Park, first bass, 6:40pm on a spinnerbait
July 11 – Sprague Brook Park 6:51pm, Top Bass at 20″ and 4-10 on a spinnerbait
Notes and Nonsense
July 11 – Sprague Brook Park (near Glenwood, NY) – 2 bass
Located about 40 minutes south of my work destination made this spot a good start on the Sunday drive. After a handful of casts with a Strike King Red Eye Shad lipless crankbait came up empty, I decided to switch to a War Eagle spinnerbait. Immediately, I was rewarded with my first catch, mission accomplished. It took another 55 minutes to get another bite but what a bite it was as the spinnerbait produced my Top Bass of 2021 at 4-10.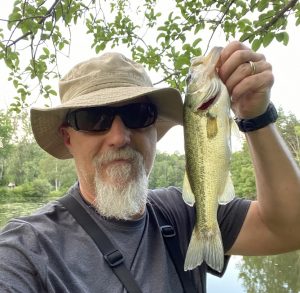 July 12 – Walton Woods Park Top Bass at 0-14 on a spinnerbait
July 12 – Walton Woods Park (two ponds in Amherst, NY) – 3 bass
For Monday, I had to stick close to my work destination to make the most of a short evening after a near 10-hour workday. The first pond, a nicely manicured fishing hole produced one small bass on a Senko. Next up was a walk into the woods to a slightly larger and more appealing looking spot. During my 45 minutes of casting, it gave up a pair of bass roughly three minutes apart with my Top Bass of the evening coming in at 13" and 0-14.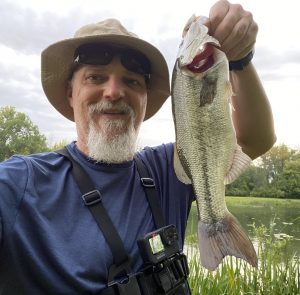 July 13 – Endicott Creek Park Top Bass at 1-7 on a spinnerbait
July 13 – Endicott Creek Park (Tonawanda, NY) – 1 bass
Once again proximity was key after a long day and this spot was barely five minutes from work. Unfortunately, about 25 minutes were spent in the vehicle as a nasty, windy thunderstorm raged in from the northwest. Luckily, it passed and allowed me about an hour to fish before dark. The creek portion of the area looked great but failed to produce a bite. However, a backwater pond gave up my lone catch at 1-7 on the spinnerbait with about 20 minutes to spare before quitting time.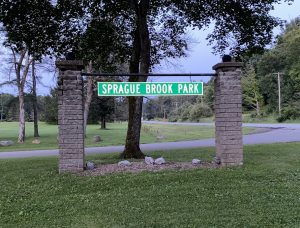 July 14 – Sprague Brook Park (two lakes near Glenwood, NY) – 1 bass
My final day of work ended around 5:00pm and I headed back to the site of my Top Bass catch. First, I hit a pond I had not tried on my earlier visit. It gave up a short bass on the Senko to ensure that I would have a skunk free week. With that monkey off my back, I went back for another shot at a big bass but came up empty. I did see a likely four-pounder swim up near me, but I could not entice a bite with Senko.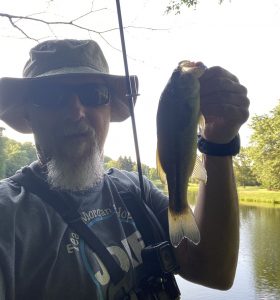 July 14 – Sprague Brook Park, final bass at 7:05pm on a Senko
While I am not a huge travel fan, being able to pack my poles along makes for a nice way to finish lengthy workdays. Summer sunset times are also beneficial as a late evening start still allows for a fair amount of casting. Overall, I was quite pleased with the haul on a set of sites unseen. Thanks also to the internet for an assist in formulating what was a successful gameplan. More to come from the trip as there was more to experience and observe than reeling in a handful of bass. Talk to you later. Troy