After a bit of a Top 5 lull, a couple more bass join the ranks as the Jackson brothers beat the heat this past weekend. Separate outings and different locations but we both managed to fool a decent bass.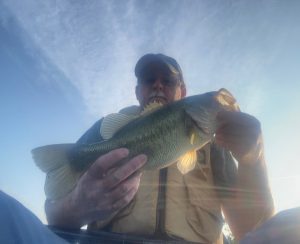 Weight: 2-3
Angler: Brent Jackson
Date: August 28
Location: Snakeden Hollow
Lure: Spinnerbait (white)
Top 5 Weight: 14-14 (4-0,4-0,2-5,2-6,2-3)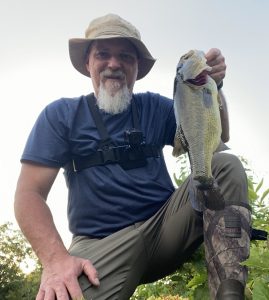 Weight: 3-4 (19″)
Angler: Troy Jackson
Date: August 29
Weather: Sunny, breezy, 82F
Location: Hennepin Canal
Lure: 5" Yamasenko wacky rig (cream white)
Structure: Lock
Angler Comments: After a month away from The Canal it was a nice welcome back to land this one. And landing a decent bass in most spots out there can certainly be a challenge as the banks can be a little unfriendly.
Top 5 Weight: 19-0 (4-10,4-3,3-9,3-6,3-4)
Well, we sit at roughly two thirds of 2021 in the rearview mirror and 69 bass submissions for our Top 5. Generally speaking, the entries wane as the fall rolls in as it can be difficult for some anglers to find a bite that will boost an already solid Top 5 Weight. But those fall bass will strap on the feedbag at some point when sensing the cold-water period on the horizon so here's hoping that you are on the water when they chow down.
And it's not too late to play along. Send your catches to troy@troyjacksonoutdoors.com (must include a photo and weight/length and whatever details you are willing to provide like entries above). Talk to you later. Troy