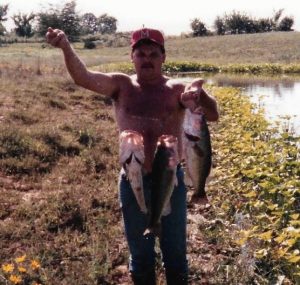 Scott "Woody" Woods with our trio of four-pounders being relocated among his grandparent's ponds
Today's flashback looks back thirty years ago this week for a visit to Woody's grandma's ponds down around Augusta, Illinois. At the time, Woody and I were both employed by a manufacturing facility in Galesburg, Illinois called National Seal Company. Our schedules consisted of four twelve-hour days followed by four days off, one of the best work weeks I've ever had with basically a vacation every eight-day week. In addition, I had a lot less responsibilities leading to ample time to fish and goof off.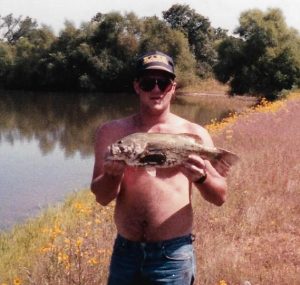 4-4 on a Texas rigged plastic worm
Woody is Scott Woods, a Knoxville, Illinois native whom I first met as a kid when our dads played softball together. Woody would go on to star as an athlete at Knoxville High School and later at Monmouth College. I had the privilege of being a teammate on the Galesburg Legion Post #285 squad and was later a rival third baseman in the Knox-Monmouth College baseball rivalry.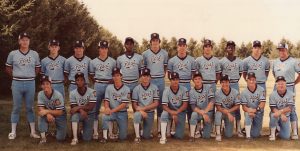 1983 Galesburg Legion Post #285 squad
Back Row (l to r): Coach Gary Mitchell, Dan Curry, Mike Karlovich, Jon Ripperger, Cedric Woodson, Shag Hess, Paul DeJaynes, Pat Hise, Derrick Bland, Joe Maxwell, Coach John Shay
Front Row (l to r): Joe Dennis, Bobby Jackson, Doug Dawson, Scott Woods, Arnie Gonzalez, Troy Jackson, Hank Sprinkle, Jami Isaacson, Head Coach Jimmy Isaacson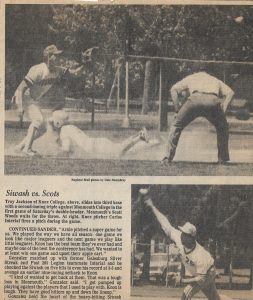 1986 Rivalry – Woody taking the throw as I slide in with a triple and star pitcher, Carlos Interial, delivers a strike
Upon crossing paths again in the 1990s at National Seal Company, we would pass some time on the job swapping fish stories. Along the way, Woody invited me down to his grandparent's farm which featured several ponds. On this visit we managed three bass over four pounds during a half day of prowling the banks. Woody would later catch one over seven pounds from one of the ponds as I recall.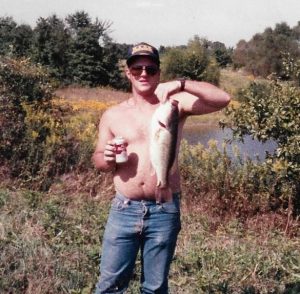 A four-pounder and a 12-ouncer
In addition to the fishing, we had a few refreshments to keep cool in the heat. And apparently it was a little warm too as we look to have ditched the shirts. Been a long time since I did that sort of thing although my fifty something body ain't a whole lot different than the 24-year-old body in today's fishing pics. Just a bit more self-conscious and quite a few less beers these days, I suppose. Talk to you later. Troy