Today's post takes us back 20 years to an old favorite fishing hole called Emstrom's Pond. The Friday Flashback has spent a few weeks there since the inception of the series back in 2018. You'd think after that collection of posts about the farm pond that I would have run out of stuff to write about.
Nope, I can always come up with something when it comes to talking fishing.
For today's post we'll look at our resemblance to a couple celebrities of yesteryear.

Wilson (Home Improvement 1991-1999) & Jackson (2-6 bass from 9/8/2001)
While I have shown some improvement in striking a pose with my catches, it took me quite a few years to heed Julie's advice to not hide behind the fish. A valid point, although I never really thought about it back in the day. After all, the fish was the focal point to my way of thinking. Of course, today's pic pre-dates my use of a cell phone for selfies although I did employ cameras with timers in those days. Those cameras were lacking the do-over feature provided by digital photography, but I didn't care if my face was in there anyway. Would have liked to have gotten a brighter shot on this catch though.
U L (MLB 1977-1987) & TJ (3-15 bass and toothpick from 9/8/2001)
Dad's pose with his quality bass from this trip brings to mind a shortstop by the name of U L Washington. Washington's major league career spanned 1977 through 1987, during which he collected 703 hits, 27 homers and 132 stolen bases while posting a .251 career batting average. However, it was his ever-present toothpick that left as much of an impression as his on the field performance.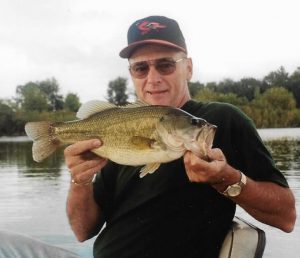 One more catch from 9/8/2001, Dad with a 3-1 bass (and a toothpick)
You know, come to think of it, Dad also had a "fro" reminiscent of U L once upon a time. And did you know that U L was U L's given name and not initials?
Yes, folks, this blog is much more than just pretty fish and rugged outdoors people. Talk to you later. Troy