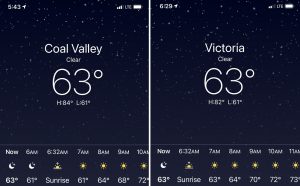 Labor Day offered a chance to get away and chase some bass. This time around I was able to share the day with one of my boys as well as a couple fishing friends. A great way to celebrate the holiday as detailed below.
Stats
Date: September 6, 2021
Location: Knox County, IL public strip mines
Time: 7:10am-9:20am (1.75 hours fishing, the rest hiking)
Weather: Sunny/breezy
Air Temp: 63-70F
Water Temp: no reading
Totals: 12 bass (Jim = 6, Jayce = 3, Troy = 3)
Lures: Senko wacky rig (various colors) and Bass Pro Shops Speed Shad (small mouth magic) with Berkley 3/0 weighted swimbait hook
Top Bass: 1-13 Jayce (Senko)
Top 5 Weight (only 1 at 12" or better): 1-13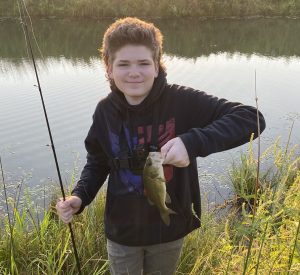 7:14am – Jayce with his first bass of the morning on a Senko
Notes and Nonsense
Guide Fails – Having my son, Jayce, along for the outing allowed me to partially assume the role of guide. I got off on the wrong foot as he awoke me at 5:09am, well after I had silenced my 4:04am alarm. I knew what we were getting into in terms of weedy hiking, but I decided to give it a go and test our endurance. After navigating some tough terrain, I couldn't put my client on very many fish before the decision was made to head for the truck.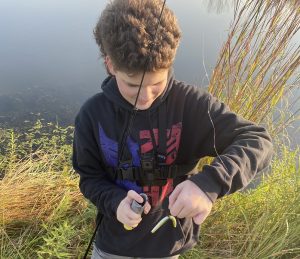 Even Jayce's "juice", given to him by Papa, couldn't help us fool those stubborn bass 
Guide Success – Jayce did land our largest bass of the trip and he gets all the credit for getting it done. He picked the lure; he selected his spot on the bank and he did the work to fool the fish. As with any of my "guide trips", this one was on the house. Payment is always received via an excited young fisherman battling his catch and a big grin upon landing it (same for the guide behind the camera).
7:52am – Jayce with our Top Bass of the day, caught on a Senko
Meet Up – Many of the famous YouTubers do a thing called a "meetup" where they meet and greet subscribers and viewers of their channel. While I do have a YouTube channel, my 24 subscribers indicate that I am far from famous. Even so, I can kind of pretend as my buddy, Jim, joined us for our two hours of strip mine roaming (and was the top angler of the morning). In addition, Jayce and I headed over to a nearby boat launch to visit with our friend, John, to end our trip. Good to see both fellows and even better to have Jayce along to be "one of the guys."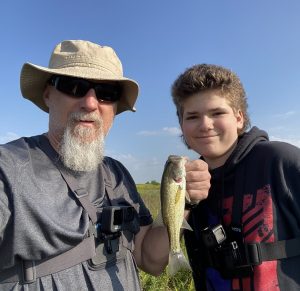 8:58am – The "Senior" guide gets on the board…barely
Lost and Found – Along the way we lost a pair of shades. Not the first time but the first lost in a long time. We lost a couple Senkos along the way as well, one to the weeds and one to a fish. But we also gained a few items during the morning. Jim provided me with a collection of classic fishing reading material while John offered up an edible souvenir from his recent trek to The Land of Enchantment. Thanks, guys, for the treasures and treats.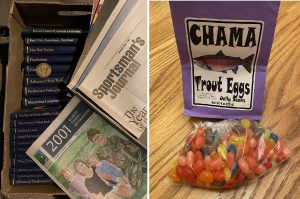 Treasures and treats from a good morning of visiting
I sure do like to catch fish and I am a dedicated compiler of notes and stats regarding those catches. But as time rolls on, I've come to realize that there's a lot more to a fishing trip than fish. Talk to you later. Troy