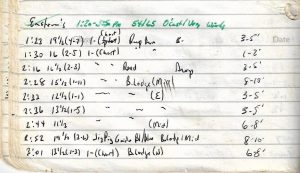 Portion of the original log from 11/1/2001
Do you know what the Oxford Dictionaries' Word of the Year was for 2013?
The answer is "selfie."
Well, not being particularly hip, I have no idea when I got wind of such a word. But being a fisherman who spent a lot of time flying solo in boats or boots, I guess that I was dabbling in the practice long before it ever got an official name.
And twenty years ago, in an eight-foot johnboat with an Advanced Photo System camera and without a fishing partner, the "selfie" thing wasn't exactly a piece of cake. This is quite apparent from the slideshow below featuring my Top 5 bass from an Emstrom's Pond trip on November 1, 2001.
Ah yes, the good, old days before a tripod, instant feedback and free do overs.
While I could write plenty on the evolution of fishing photography, that is best left for another time. Instead, the pics of the fish and the angler will speak for themselves in today's flashback.
Although, in compiling today's post, I did wonder if a "true" selfie was simply a photo taken by, and featuring only, the subject taking the shot.
According to the reliable source, Wikipedia, "A selfie, however, may include multiple subjects; however, as long as the photo is being taken by one of the subjects featured, it is considered a selfie."
Here's to many more (and hopefully better) fishing selfies. Talk to you later. Troy