One of the regular stops for me and my brother on some of our public strip mine hikes is a spot we call "2X4 Lake." It doesn't have a real name, so we made one up after a 2013 trip when it gave up two four-pound bass in the span of ten minutes.
Well, quite a few years prior to that pair, Brent and I completed the same four-pound feat on good, old Emstrom's Pond. If you've followed the Friday Flashback posts over the last four years, perhaps you've heard of the legendary fishing hole. No matter that it took us just a bit more than ten minutes to land this duo, it's always cool to catch multiple high-quality bass on one outing.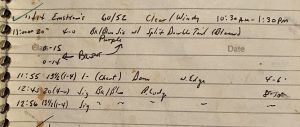 Original log entry from November 14, 2001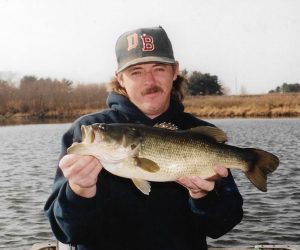 November 14, 2001 at 11:45am, Brent strikes first with a four-pounder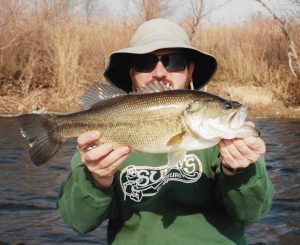 November 14, 2001 at 12:45pm, I manage to match the day's Top Bass
Brent struck first with an even four-pounder at 11:45am and I was able to follow up with a fish of identical weight at 12:45pm. Both bass fell to black and blue jigs, classic cold water, big bass baits. Such a presentation was a winner on that old pond over the years as we compiled quite a list of good fish bouncing those jigs around The Beaver Lodge and a couple other spots. In fact, the 2001 bite on the jig (and another surprising lure) was not quite done after this trip. But those are tales for future Fridays as we head down the home stretch of this year's Friday Flashback.
Stay tuned and talk to you later. Troy