Part II of the lure recap moves on to the most productive choices from 2021.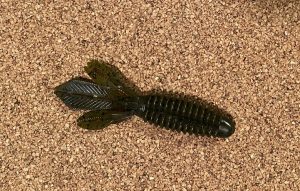 Creatures
Berkley Havoc Pit Boss, Yum Crawdad (green pumpkin) – 8 bass
Top Bass: 18" 2-14 September 27 Lake Storey
Comments: Unless the bass force me to slow down, I don't. Thus, there are not a whole lot of catches on these slower moving, structure bumping, tight cover lures. The eight catches on these lures came during early fall on either Lake Storey (4 bass) or a pair of Snakeden lakes (4 bass). Each of the bass were caught while jigging the Texas rigged lure through shoreline wood cover. I enjoy catching fish in this fashion but relied more on faster moving baits for nearly all my 2021 bass.
Chatterbaits
Z Man Chatterbait (bluegill or white with various Zako trailers) – 17 bass
Top Bass: 16" 1-12 October 10 Snakeden Hollow
Comments: After a high-water mark of 43 bass on chatterbaits in 2020, the totals dipped again in 2021. The decrease was largely because I rarely threw the lure. In fact, 16 of these 17 catches came during an October 10 hike to a Snakeden lake where the bass just eat this thing up (unfortunately, only one was decent size). The chatterbait has never really took hold in my arsenal although I am aware that other anglers swear by the lure. There were several days in 2021 that I had one tied on to start the day and it never even got wet as other presentations got the job done.
Spinnerbaits
War Eagle WEG02RKTW38 (white/chartreuse) – 31 bass
Top Bass: 17" 2-7 May 4 Knox County, IL private strip mine
Comments: I am about as old school and stubborn as they come in my lure selection and my lone spinnerbait choice bears this out. The fact that I regularly use a spinnerbait is also a bit of a throwback as the lure isn't as popular as it was when I dove into this bass fishing thing back in the 1980s. However, my spinnerbait arsenal has changed considerably with a new batch of hand-crafted spinnerbaits just received from an old friend and baseball teammate. Stay tuned.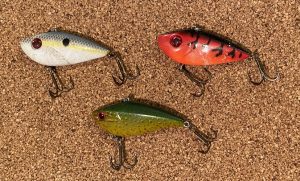 Lipless Crankbaits
Strike King Red Eye Shad (sexy shad or orange craw) and Xcalibur Real Series XR50 (chicken pox) – 45 bass
Top Bass: 20" 4-3 June 19 Snakeden Hollow
Comments: It doesn't get much faster than a basic lipless crank retrieve and that's just my speed when I can get away with it. And while you may need to tone it down a bit in colder water, these lures get the job done throughout the entire open water calendar. The 45 bass represent a fifty-percent decline from the 89 bass caught on the lure type in 2020. Much of this has to do with my time spent on the Hennepin Canal as most of the areas that I fish on the corridor do not set up well for such a presentation. In contrast, several strip mines and Lake Storey contain some prime lipless crankbait structure in the form of flats, points, and ledges.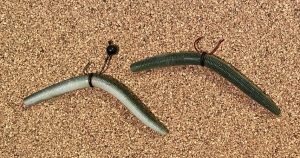 Plastic Worms
Senko wacky rig (various colors) – 82 bass
Top Bass: 20" 3-6 July 21 Hennepin Canal
Comments: Plastic worm exclusively means the wacky rigged 5" Yamasenko (Senko for short) in my arsenal. After a down year of 39 bass in 2020, the Senko wacky rig bounced back by more than doubling the catches of the previous year. What more can I say than it is a winner, catching bass everywhere that I fished from May Day to Halloween. In addition, my new stomping grounds along the Hennepin Canal set up well for this presentation and the Senko got the job done. It currently holds the spot for Top Canal Bass and landed a pair of three-pounders on my prowls.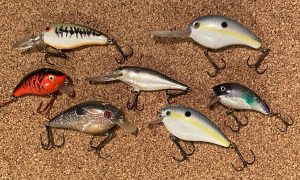 Crankbaits
Various (see above picture) – 104 bass
Top Bass: 18" 3-1 April 2 Knox County Strip Mines
Comments: A variety of crankbaits pushed this category into triple digits and made it the top producing lure type for the second straight year (100 bass in 2020). From shallow (Mann's Baby 1-) to mid-depth (Shad Rap, Bomber Flat A and Strike King Squarebill) to deep (Strike King Pro Model), this collection of crankbaits found a lot of fish. These lures are in my wheelhouse as they allow me to fish at a fairly rapid pace, cover lots of water and bang into as much stuff as I can on the way back to the boat. And from the results, it is apparent that these tools work well when employed in the right spots at the right time with the right presentation, that's fishing.
And with that, we wrap up the recap of the usual set of tools that were used to fool the bass in 2021. On the water, the focus is on finding the right tool at the right time, so I always enjoy the year-end analysis to see how it all shook out in terms of totals. I was pleased with the results and execution even though I did not step to far out of my comfort zone in terms of lure selection. However, in the next chapter of the 2021 recaps, I did take a stab at uncharted waters and was pleasantly surprised. Read all about it as coming up next, we explore "Locations." Talk to you later. Troy