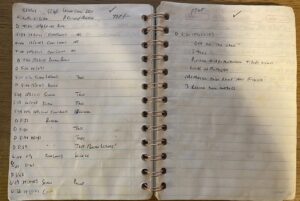 These sort of posts make the Friday Flashback series a worthy project in my book. A remote "nameless" lake, a portage to reach the water, Dad along for the ride (and drag), and a successful version of a project aimed at enhancing "fish stories".
Excerpts and pics from original 2007 post
Day On The Lake (DOTL) version five was a trip that Dad and I took to an unproven lake at Snakeden Hollow. The lake got my interest on March 27th of this year when I caught a pair of record book bass (2-3 and 1-8) in the span of fifteen minutes while fishing one of the limited access points available to a bank fisherman. Including that outing, I'd only spent an hour and fifteen minutes on this nameless and remote lake located near the largest lake on the site, Lake McMaster. I've since taken it upon myself to remedy the "namelessness" and now officially refer to the body of water as Locust Lake. I arrived at this appellation due to the prevalence of locust trees around the steep and nearly inaccessible banks.
Date: May 9, 2007
Location: Locust Lake-Snakeden Hollow
Time: 4:30pm-6:30 pm
Weather: Partly cloudy/breezy
Air Temp: 77 F
Totals: 21 bass (Dad – 11, Troy – 10)
Lures: Chatterbait (white) – 16 bass, Senko wacky rig (natural shad) – 4 bass, Buzzbait (white) – 1 bass
Top Bass: 1-11 Chatterbait
Top 5 Weight: 7-1 (1-11,1-10,1-8,1-3,1-1)
As we launched our boat, we spied three Common Loons swimming on Lake McMaster. They are a large and relatively easily identified bird with a rather distinctive call (unfortunately they were silent during our encounter). While not rare, they are a generally uncommon visitor to much of our area. These were the first I'd seen in quite a few years since occasionally spotting some at Lake Bracken. As I later thought of our trek up the bank with the boat, I could imagine an observer reporting a couple Uncommon Loons at the lake as well.
Part of the plan for each DOTL outing is to compile a photo essay by taking a picture of each bass that we catch. Often the pictures say more about the anglers than the bass, which all look quite similar unless we catch a record book fish (maybe someday a researcher will find out if all humans look alike to bass). Below are some shots and notes detailing selected catches.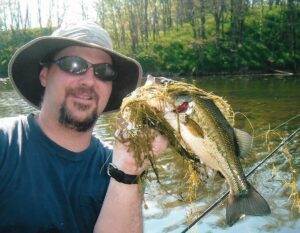 Bass #3 – My 13" fish has a mouthful of Chatterbait and vegetation with subsurface weeds visible in the background. The photo says it all about the conditions and one technique to catch "slop" bass.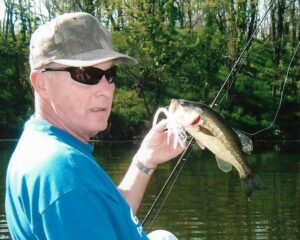 Bass #6 – Dad's 14" bass has a Booyah Boogie dangling from its lip as he broke down and followed suit by tossing his version of the Chatterbait after initially falling behind three bass to one.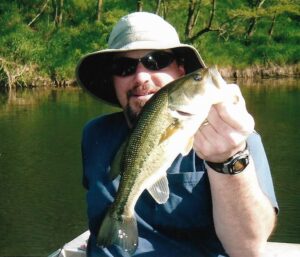 Bass #7 – I've assumed my customary backwards lean to ensure that I get into the frame. When fishing in the little boat, quarters are rather close requiring extra work to get a good shot.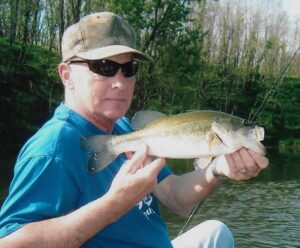 Bass #8 – A classic shot of a Dad's 1-11 as he pivots sideways in his seat while the photographer snaps a good image of the lake and surroundings to frame the angler and his catch.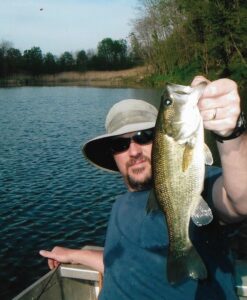 Bass#9 – It appears that me and my 1-1 bass are about to fall out of the boat as I lean back. Dad hates vertical shots but gives it a try anyway and nearly misses me and my fish who reside in the lower right-hand corner of this photo.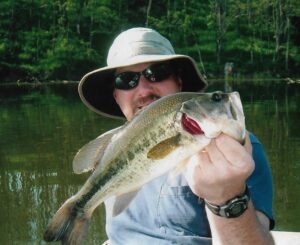 Bass #10 – Dad nails this shot of my 1-0 but I hold the bass like that Wilson guy from Home Improvement, obscuring the bottom half of my face (got a lot of shots like this).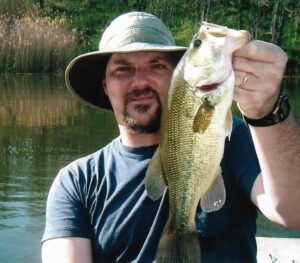 Bass #11 – I'm missing my ever-present fishing shades in this shot as preferred by Julie. She'd probably also like a smile, but the bass just wasn't big enough to cause such a reaction.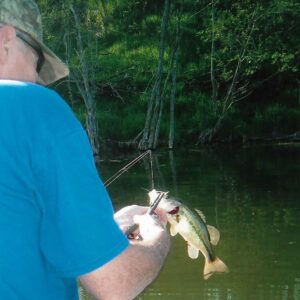 Bass#12 – An action photo of Dad lipping a bass with his left hand while performing some dental work with the pliers in his right hand lends some variety to our poses.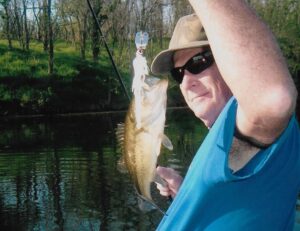 Bass #15 – This shot of Dad holding up a bass with a Booyah Boogie in the side of its mouth is a bit distracting. The aim on this photo is right up Dad's shirtsleeve so the focus is drawn more to his armpit than his catch (I'm a fisherman, not a photographer).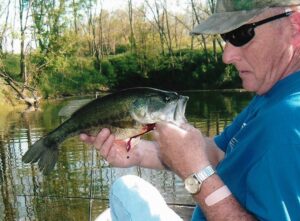 Bass #17 – Dad's gill hooked bass is dripping blood in this shot as he looks concerned about where the lost blood is going to fall.
Over the years, I have made several return trips to Locust Lake with my last visit being on July 30, 2017. On that outing, I was greeted by the unpleasant stench of decaying fish and observed numerous dead bass floating on the surface including a couple that would have pushed the four-pound mark. I gave it a shot anyway and wound up with three bass, one of which looked so sickly that I was a bit leery to even grab it. A sad state and I have yet to determine whether it was an intentional fishery eradication or some sort of random fish kill. Whatever the case, I have not invested the effort to take another look at the once promising fishing hole. Talk to you later. Troy