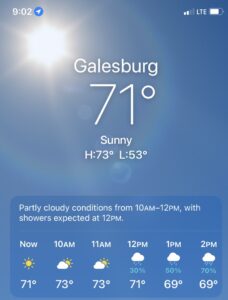 Well, when you write fish stories as a hobby, every once in a while, you run into a report such as this submission. Getting right to the point, Brent and I had a rough day on Lake Storey a couple weekends ago.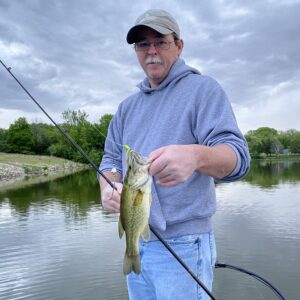 6:01am – I said we'd better take a pic just in case we don't catch any more. I was kind of joking.
Stats
Date: May 15, 2022
Location: Lake Storey – Knox County, IL
Time: 5:55am-11:40am
Weather: Partly cloudy/calm to breezy
Air Temp: 71-73F
Water Temp: 76F
Totals: 2 bass
Lures: Special K Spinnerbait – 1 bass, War Eagle Spinnerbait (white/chartreuse) with twin tail trailer – 1 bass
Top Bass: None at 12" or better
Top 5 Weight: None at 12" or better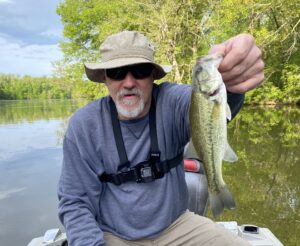 7:19am – even goofing around doesn't really make my lone catch look any larger
Notes and Nonsense
Bad Timing – On Tuesday May 10, my friend, John Kirkemo, reported in from Lake Storey noting, "Lake is full. Lot of timber normally only partially submerged is now barely showing above the water. Water is about as clear as I have ever seen it. No weeds showing on the surface." Those were definitely some encouraging words, but a nasty storm blew through on the evening of Friday the 13th and the lake was still a mess two days later. Tons of floating debris and dirty water dampened my spirits and had both the bass and this bass fisherman out of sorts. Mother Nature and Lake Storey conspired to make things tough. That's fishing.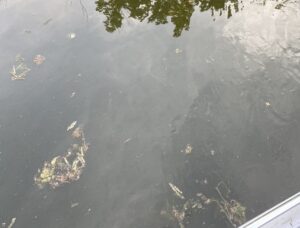 Clumps of debris from the oak trees were abundant after the recent storm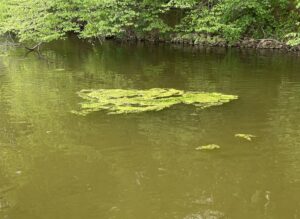 Mats of floating vegetation in the dingy water were also an unusual post-storm result
Theories (take your pick)
1. The storm and cold front knocked the bass for a loop.
2. The recent proliferation of shad in the lake are making for a tougher bite as the bass have an increased natural forage base.
3. We just aren't that good of fishermen.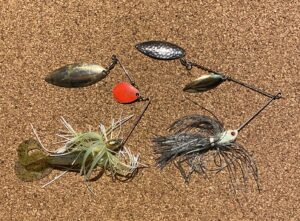 Winning lures, one bass apiece, and we threw plenty of other stuff without getting a strike
Really, there's not a whole lot to report, not even "one that got away" as we landed the only two bites we got. No doubt it was good to avoid a shutout but neither bass was much to write home about. But fishing stories are what I do and long ago I guaranteed a fishing report for every trip, good or not so good. This outing was one of the latter and tested that vow. I suspect that we will cross paths with Lake Storey again in 2022 to see if we can show those bass who is boss. Stay tuned and talk to you later. Troy