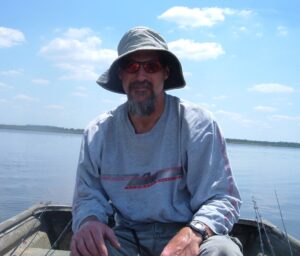 As 2022 represents the final trip through the Friday Flashback series, a spot called "Emiquon" deserves a few more posts. After all, ten years ago, the one-of-a-kind fishing hole was still in its heyday. Here's a portion of the original report posted June 10, 2012.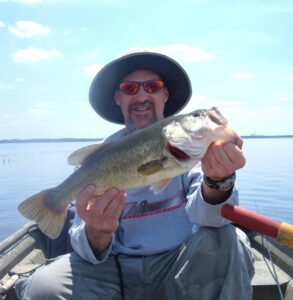 1:07pm – Top Bass at 3-8 on a Bass Pro Shops Kermy Frog
Stats
Date: June 7, 2012
Location: The Emiquon Preserve
Time: 12:25pm-8:15pm
Weather: Sunny/calm-breezy
Air Temp: 80F-68F
Water Temp: 77F
Totals: 55 bass
Lures: Booyah Counter Strike Spinnerbait (snow white) – 33 bass, Bass Pro Shops River Bug (roadkill camo) – 15 bass, Bass Pro Shops Kermy Frog (measles) – 2 bass, Hart Jig & Rat-L-Chunk (kitchen sink) – 2 bass, Strike King KVD 2.5 Squarebill Crankbait (sexy ghost minnow) – 1 bass, Frank's Inline Spinner (Emiquon Equalizer) – 1 bass, Danc'n Eel – 1 bass
Top Bass: 3-8 (Bass Pro Shops Kermy Frog – Measles)
Top 5 Weight: 14-15 (3-8, 3-4, 2-13, 2-13, 2-9)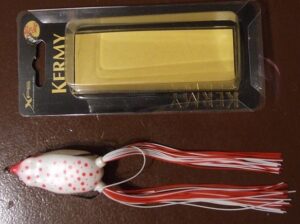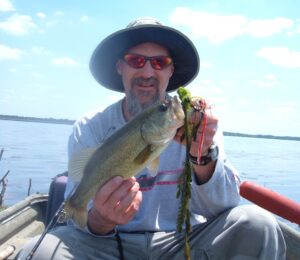 1:01pm – First bass and fooled on a Bass Pro Shops Kermy Frog
Fooled By Frogs – It took me about a half hour to get my first bite and successfully land the 14" (1-13) bass pictured above on a Bass Pro Shops Kermy Frog (measles). Six minutes later I was lipping a 3-8 that completely engulfed, and literally destroyed, Kermy causing him to fill with water if not skipping atop the slop. These two fish and a steady chorus of explosions all around me kept me casting Kermy and a Spro Bronzeye Frog (Halloween pumpkin) for the next hour as I committed to the frog bite. Bad move, as I had only one more bite before shifting gears to a productive spinnerbait pattern. It doesn't take much to hook this angler on a topwater bite and I made the wrong decision in sticking with it too long, but such is part of the quest.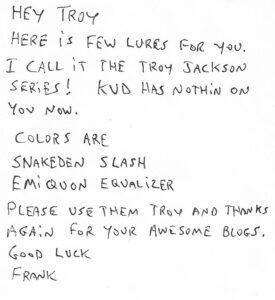 Note from a blog reader that accompanied his handcrafted lures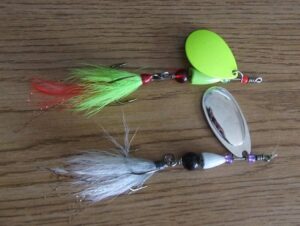 Emiquon Equalizer (top) and Snakeden Slash (bottom)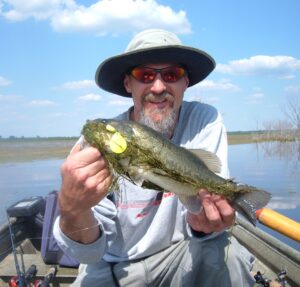 3:45pm – The "Emiquon Equalizer" comes through
The Equalizer – Frequent blog reader and commenter, Frank Harvey, hooked me up with a couple homemade inline spinners earlier this year. His "Snakeden Slash" had already come through on Snakeden Hollow's Lake McMaster and his "Emiquon Equalizer" performed as named on this trip. I ran it through some schools of small baitfish on a ditch edge and about the third cast landed the fish pictured above. My spinnerbait bite was pretty hot so I didn't stick with the Equalizer but it's good to know that I have another effective weapon in the Emiquon arsenal.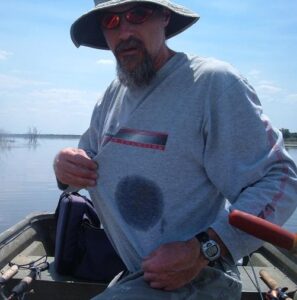 Flying Frog – If you frog fish, you can likely relate to the above picture. The scenario goes like this: frog hops among slop, bass explodes on lure, hook is set, bass dives into thick weeds, tug of war ensues, the bass lets go, the moss-covered projectile comes flying in my direction and in this case nails me right in the ribs with a watery thud. I couldn't help but laugh aloud and just had to take a silly snapshot for the blog.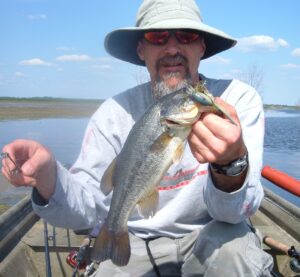 4:00pm – Even broke out the old "Dance'n Eel", an 80s flop but a winner on one Emiquon dummy
Late Night – The Emiquon rules stipulate access from sunrise to sunset so after landing bass number 55 at 8:13pm it was time to fire up the trolling motor and head for the truck. I usually don't pay much attention when the bite is on and down there you can wind up a long way from the launch. So, by the time I got loaded up (with an assist from a pair of helpful fellow anglers) it was nearing 9:00pm. With a beef jerky/soda stop in Lewistown it wound up being close to 10:30pm when I pulled into the driveway. It's probably a good thing that they run you out at sunset because even after nearly eight hours in a johnboat I think I could've stayed all night with the way the bass were cooperating at the end of my day. Of course, if I would have pulled such a stunt, I may not have been able to get back in the house anyway, so it was a wise decision to abide by the rules for several reasons.
Emiquon fishing trips were something to behold. In fact, this particular outing needs two posts to cover. So, tune in tomorrow for a bonus "Saturday Flashback." Talk to you later. Troy