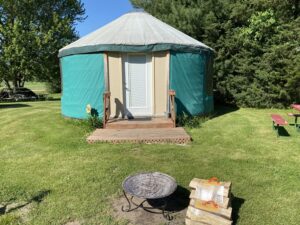 yurt (noun) – a circular tent of felt or skins on a collapsible framework, used by nomads in Mongolia, Siberia, and Turkey (or Geneseo)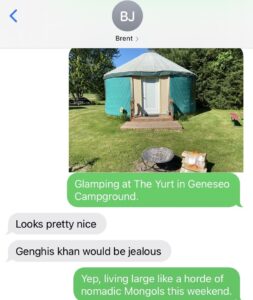 As we await another summer reservation at "The Yurt," let's look back at last summer's nomadic, family adventure. For a family that has spent all our camping trips in a tent or two, the prospect of "glamping" in a yurt seemed quite appealing. Even better, we didn't have to travel to Mongolia. Instead, we trekked a whole 15.8 miles from the crib to the yurt. Now, that's my kind of trip. Less time driving and more time living large like a spoiled Mongol (air conditioning, microwave, mini-fridge, bunkbeds…).
Not only was the yurt a hit (although the air conditioner gave out) but we kept plenty busy with outdoor activities. The list included a canoe ride, fishing, pedaling surrey carts, cooling off in a sprinkler pad, smores, burning stuff in a fire pit and hiking.
A fun time was had by all, including Daniel Tiger who was a stowaway. His presence made for an entertaining bit of hide and seek as each finder would stash him away in a new location.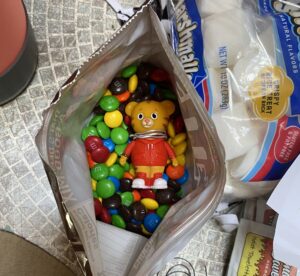 The plan is to do it again this summer. Perhaps Daniel Tiger will tag along and maybe bring a friend or two.
Stay tuned as I intend to post the new adventure in a bit timelier fashion than a year later. Talk to you later. Troy