With four kids from ages one to eight back in the summer of 2012, there wasn't a whole lot of date nights. However, Julie and I did manage a fishing date as described below in excerpts from the original July 10, 2012 blog entry.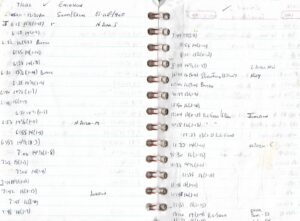 As the saying goes, "Beggars can't be choosers." So, despite the recent run of 100 degree plus temperatures it was an opportunity to fish, and I wasn't about to pass it up due to something called a "heat advisory." To be honest, I'm always more concerned about the wind when planning a trip to Emiquon. All was well and I was happy to have the company of a fellow fishing fool. Here's the first of a two-part fishing report detailing how it all worked out.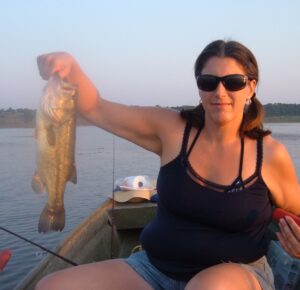 6:13am Julie on the board with our first catch
Date: July 6, 2012
Location: The Emiquon Preserve
Time: 6:10am-12:25 pm
Weather: Sunny/calm
Air Temp: 80-100F
Water Temp: 90F
Totals: 40 bass (Troy – 26 Julie – 14)
Lures: Booyah Counter Strike Spinnerbait (snow white) – 15 bass, Mann's Baby 1- crankbait (copper shad) – 12 bass, Strike King Red Eye Shad (sexy shad) – 10 bass, Strike King Red Eye Shad (red crawfish) – 2 bass, 5" Yamasenko weighted wacky rig (rainbow trout) – 1 bass
Top Bass: Troy 2-5 Booyah Counter Strike Spinnerbait (snow white)
Weight (Top 5): 10-9 (2-5, 2-2, 2-2, 2-0, 2-0)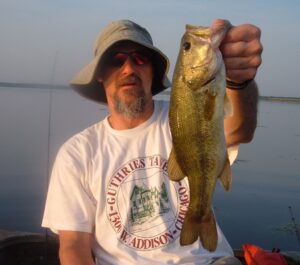 Notes & Nonsense
"Helter Skelter in a summer swelter" (quick, name the tune and artist) – I've written in the past about Emiquon's propensity for giving up numbers in the right place at the right time. We hit those windows/spots a pair of times as follows: 6:13am-8:01am produced 23 of our bass and 10:46am-12:22pm produced another 15 bass. That left two bass landed in the gap in these times as we explored a stretch that had produced just a month earlier. Despite similar structure, schools of baitfish and a variety of presentations, the bass just wouldn't cooperate. Eventually, we wound up back near where we had started in time for the bass in the area to turn on once again.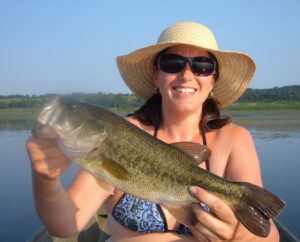 Hot Seats and More – The calm and balmy conditions made any exposed surfaces of the boat painful to touch. Boat cushions were a must and we even had to put on gloves to load the boat into the back of the truck. Our granola bars were a mess and once the water bottles came out of the cooler, they were nearly instantaneously lukewarm. The truck read 109 when we got in and went as high as 112 before gradually decreasing during the ride. The bank in Lewistown read 108 and while probably a bit of a stretch, does pinpoint accuracy really matter when it's just plain hot?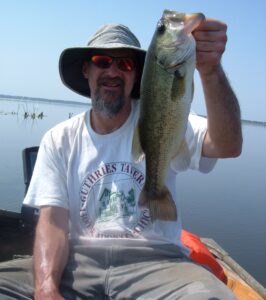 100 Degree Bass – A little after noon I told Julie that we needed one more bass just to say we caught one in hundred-degree weather. At 12:22pm I reeled in the fish pictured above to get my wish and then we called it quits a few casts later. My original plan was to fish until 1:00pm but I was satisfied with our effort and results a half hour short of the target. Apparently, Julie was as well for she did not debate the decision and after the work of loading our gear we were even more convinced that we'd done the right thing.
As always with an Emiquon trip, I could go on and on…
And I will go on and on, with a bonus Flashback Saturday post featuring some more notes from this outing. Talk to you later. Troy