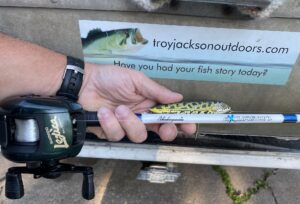 As an aspiring YouTube sensation (sounds good, right), I check out what other anglers are doing on their channels. One item that I frequently notice is the good, old, "links in the description below" reference somewhere in their clip that details the equipment used for reeling in their catches. Time will tell if this fish story makes a YouTube appearance, so I am going to provide my "description below" in a blog post just in case.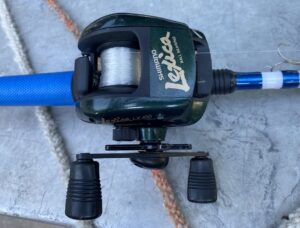 Reel – Shimano Lexica LX-100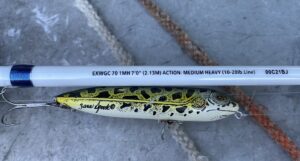 Rod – 7'0" Shakespeare Excursion Medium Heavy Action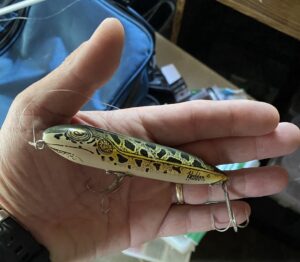 Lure – Heddon Zara Spook in the natural frog pattern
Rest of the Story
Many anglers looking at the above details would scratch their heads wondering who in the heck fishes with this gear and why?
Well, since you asked…I set out for the Hennepin Canal last Sunday to make a "fish story".
Once upon a time, my longtime friend, Matt Reynolds (aka Hack), purchased a baitcasting reel. The best he could recall, the purchase was made somewhere around 1993. As he had not used the reel for decades, he asked if I would be interested in adding it to my tackle. While he lives in the southeast, he has family back in my old neck of the woods and it made its way back last Thanksgiving. Being prone to dragging my feet, I finally reached out last Saturday and was able to make a pickup. Later that evening, I spooled it up with ten-pound Trilene (didn't have any twelve-pound on hand) and it was ready to go.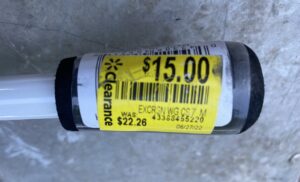 Having damaged a rod tip recently, I was in the market for a replacement and found a couple bargains at the local department store. The Shakespeare models met my three primary qualifications for a casting rod: cheap, at least 6'6", and one-piece. You can have your $300 rods and I suppose there are some benefits. But with these marked down from $22.26 to $15.00, I could have bought twenty of them for the same investment. I only bought two, however, and just like that I had a new rod and reel combo for a whopping fifteen bucks.
Being summer, there was no doubt what lure was going to land the first bass with the "new" reel. Hack and I had spent a fair amount of time in the 80s and 90s tossing around a Heddon Zara Spook topwater with solid results and some quality bass. In those days, at a spot called Ponder's Pond, the natural frog pattern was a winner, prompting Hack to give it a nickname. Thereafter, it became known as "The Pickle", a term of endearment in reference to its gherkin-like look.
My first cast with "The Pickle" at The Hennepin Canal was met with a light strike but the fish failed to hook up. While it would have made a good fish story to land a bass on the first cast, I wasn't too disappointed. Fishing the warm, partly cloudy July evening on the shallow waters of The Canal, I was confident that sooner or later the Spook would produce. About fifteen minutes later, a solid blast by another bass with bad aim reinforced my outlook. Although I should have tossed a Senko into the boil created by the strike, a Spook bass was my goal, and I ran it by the area again to see if the bass was still interested. It was not and I set the Spook aside for a bit as I waited to reach another promising stretch of water.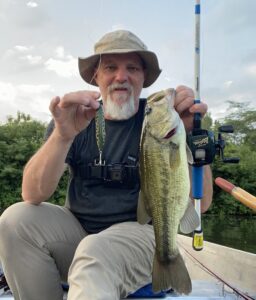 That promising stretch of water wound up a winner with a quality bass weighing in at 2-6.
Couldn't have written it up any better than the way it went down. And it sure won't be the last bass that I land with that near thirty-year-old reel that looks and works like brand new.
I fished for another forty-five minutes or so with a couple other lures, but nothing was going to top the "fish story". And on the way home, I got another bonus with a trio of tunes on the radio that took me back to running around with Hack and the Junk brothers all those years ago. Stay tuned for an abbreviated and overdue "Trip Tunes" post. Talk to you later. Troy