Summer has been tough on the Top 5 as we have been a month without any submissions. But as we head into August, we are back with a couple July entries. In addition, we have a new wrinkle with the angler comments on one catch coming in the form of a poem.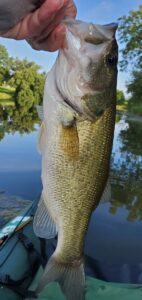 Weight: 1-10 (15")
Angler: John Kirkemo
Date: July 26
Weather: Some clouds, some sun. Cool temperatures. Light wind
Water Temp: N/A
Location: Lake Storey
Lure: Wacky worm
Top 5 Weight: 15-11 (4-2,3-5,2-14,2-11,2-11)
Angler Comments:
Tuesday, I fished but didn't expect too much
Because of the intensive heat and such
I was casting to structure along the shore
Twenty, thirty casts or more
Time went by without a bite
Would I get one before day became night?
But all of sudden in 3 feet of water
Fishing got a wee bit hotter
My rod was bent by an aggressive fish
I had finally got the fisherman's wish
After a while the fish was in the boat
Which had managed to remain afloat
After photos and extensive measurement
I released the fish to his element
Editor's Note: Bravo!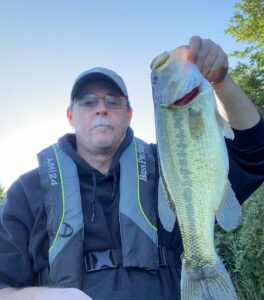 Weight: 3-1
Angler: Brent Jackson
Date: July 30
Location: Snakeden Hollow
Lure: Topwater Popper
Top 5 Weight: 17-12 (5-4,3-9,3-3,3-1,2-11) culls a 2-11
Good to get back on track with a Monday update and here's hoping we fare better in August than we did in July. We were out there catching plenty of fish though, just not finding any bass that would boost our weights. August is always a tough month, but I have confidence that our crew can find some quality bites.
And, John, how are you at haiku?
Good luck in August
Hope we all can boost our creels
For many updates
Talk to you later. Troy