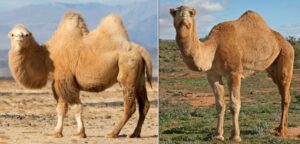 Ever get your camels confused? Read on for an explanation
Today's flashback focuses on a Snakeden Hollow lake that did not exist back in 1990 when the site opened for public access. Although I roamed and fished Snakeden before it became public, I do not recall what the lake area looked like all those years ago. Perhaps it was just a depression hidden amongst the abundant weed growth before upkeep took an upswing. Construction of a series of earthen dams on the site have converted several of these marshes and potholes into viable fisheries over the years.
I first fished the spot on June 11, 2010, as curiosity and the heat got the best of me on one of my hikes. Looking back on a June 13, 2010, blog entry, my initial visit started as follows:
"The temperature and hauling half a dozen rods (in a handy rod holder) along with way too much tackle worked up a sweat in a hurry. Therefore, I stopped earlier than planned at a lake I hadn't fished before. A bass blew up my Zara Spook twice on the first cast without eating it and I landed my largest fish of the day on my third cast with the Spook."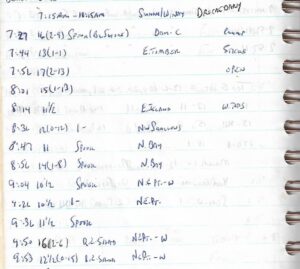 July 18, 2012 original log entry
Since I caught a bass on that June 2010 day, the lake needed a name. As it had a visible hump, I elected to incorrectly call it "Bactrian Lake" as I got my camels mixed up (Dromedary is the one-humped ungulate). By the time that I fished it on this 2012 trip, I had realized my error and renamed it "Dromedary Lake."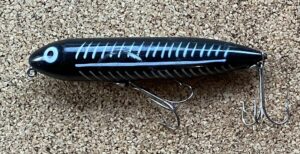 Dromedary Lake winning lure
The lake has been a productive spot over the years, but today's flashback outing was the best overall day I've had on the body of water.
Date: July 18, 2012
Time: 7:15am-10:15am
Totals: 13 bass
Weather: Sunny/windy
Lures: Zara Spook (black shore minnow) – 9 bass, Mann's Baby 1- Crankbait (rainbow) – 2 bass, Strike King Red Eye Shad (sexy shad) – 2 bass
Top Bass: 2-13 Zara Spook
Top 5 Weight: 11-1 (2-13,2-9,2-6,1-13,1-8)
Turns out that several years later I would drag a boat to the lake and discover that there was a second hump after all. Too late to change names again at that point, so the lake will forever be known as Dromedary Lake. Talk to you later. Troy