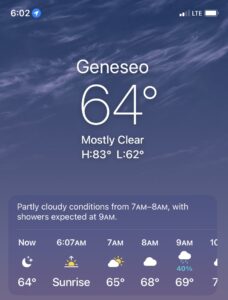 Still playing catch up with reports from The Canal as I have shifted gears to individual trip reports as opposed to monthly wrap-ups. Today's post draws on a musical theme as my drives to the fishing holes are much shorter and don't lend themselves to my Top 10 Trip Tunes project.
Stats
Date: August 13
Time: 6:05am-9:20am, 9:45am-10:00am (two locations)
Totals: 13 bass (3.71 bass/hour)
Weather: Partly cloudy/breezy 64-75F
Lures: Booyah Buzzbait (snow white shad or black) – 5 bass, Special K Spinnerbait (bleeding shiner) – 3 bass, Zara Spook (natural frog) – 2 bass, 5" Yamamoto wacky rig (natural shad) – 2 bass, Bomber Long A Jerkbait (red/yellow) – 1 bass
Top Bass: 3-4 Spinnerbait
Top 5 Weight: 10-6 (3-4,2-10,2-3,1-3,1-2)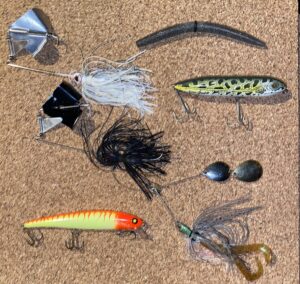 Winning Lures
Notes and Nonsense
Jump (Van Halen – 1984) – The strike on my Booyah Buzzbait in the above clip was vicious and up close. Obviously, the fish also came up short on getting hooked. Lucky for the fish, I guess, but a bummer for the fisherman. Such a strike does get the heart racing and can make you jump, especially if your mind is wandering as happens to me on the water from time to time.
What Might Have Been (Little Texas – 1993) – My current Top Canal Bass is a 3-6 from July 2021. Would the bass in the video clip have eclipsed that record? I guess I will never know but I am going with "Yes." If nothing else, it makes for a better fish story and it certainly displaced enough water to indicate a good fish.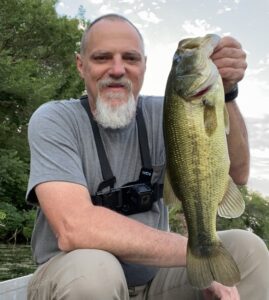 6:15am First Bass at 18.5″ and 3-4 on a spinnerbait
How Long (Ace – 1974) – While the fish in the video clip above was "one that got away", I did get a few other quality bites. Included among those bites, were a pair of bass that set a new mark for the longest bass I've landed on The Canal in 2022. Both fish came in at 18.5" with weights being 3-4 and 2-10. These fish topped the half dozen 2022 bass landed that have measured 18". As far as my all-time longest Canal bass it remains a 20-incher from July 2021.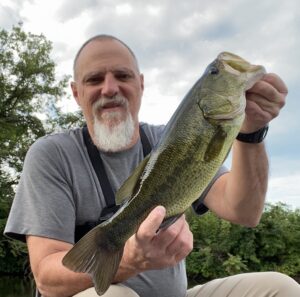 7:11am another 18.5″ bass at 2-10 on a buzzbait
You Make Me Feel Brand New (The Stylistics – 1974) – Well, the big bass strike on the buzzbait damaged the skirt to the point that it needed replaced. While I did not have a new skirt on hand, I did have a backup bait with a black skirt. Similarly, the skirt on my favorite spinnerbait had taken a beating in 2022 prompting a change from bold bluegill to bleeding shiner. Both changes were winners with the black buzzbait landing a 2-10 and a 2-3, while the spinnerbait posted a 3-4 as my first catch of the morning. Gotta love some immediate, positive feedback.
I Missed Again (Phil Collins – 1981) – After my latest YouTube post bragging up the effectiveness of following up with a Senko after a missed topwater strike, the technique has let me down. The last four fish that have missed on buzzbait strikes have not been fooled by the Senko approach. Perhaps the bass have caught wind of the trick via my YouTube post which has a whopping eighty-six views.
Well, "That Just About Does It," don't it (Vern Gosdin – 1989), for another productive day on The Canal. Talk to you later. Troy