Two more bass joined the project this past week as Brent and I both hit the water for a while on Saturday. He paddled around Snakeden at sunrise while I pedaled around The Hennepin Canal towards sunset. Mixed results as he was much more successful than me, but we both managed a solid catch for Top Bass. Read on for the rest of the story.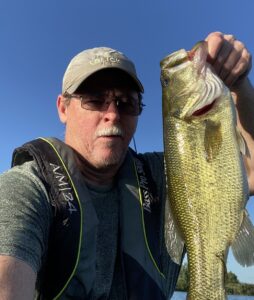 Weight: 2-12
Angler: Brent Jackson
Date: July 15
Location: Snakeden Hollow
Lure: Mann's Chug-N-Spit
Angler Comments: Four hours on the water, eleven bass, 2-12 was the biggest. I had one break off and lost the Chug-N-Spit. I did not see him, but he pulled good. At least until the line broke. Top 5 for the morning 10-14 (2-12,2-8,2-6,1-15,1-5).
Top 5 Weight: 14-14 (3-8,2-15,2-13,2-13,2-13)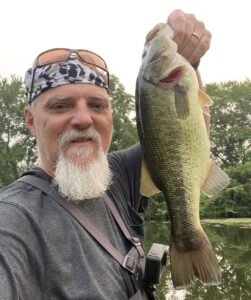 Weight: 2-8
Angler: Troy Jackson
Date: July 15
Weather: Hazy/calm, 82F
Water Temp: not available
Location: Hennepin Canal
Lure: 7.5" Yum Ribbontail Worm (plum)
Structure: Weed edge/drop
Angler Comments: I started my evening trying to get a topwater frog bite going but continue to struggle with that approach. Instead, a Texas rigged plastic worm saved the day in an area where I found some deeper water adjacent to a shallow weed edge.
Top 5 Weight: 20-15 (5-3,4-10,4-2,3-9,3-7)
While neither fish gave us a boost in our Top 5 Weight, the catches were certainly worth reporting. Some quality summer advice is also of note as it pertains to today's update. Early or late in the day are your best bets for summer success. In those lowlight conditions, the bass are more willing to strike on top. But if that doesn't work out, bounce a worm or creature bait around deeper water with a sharp drop where bass can move easily between the depths.
A couple fishing reports are in the works including an attempt to add another state to my list of bass catches. In addition, I am hoping to get out a few more times before we head into August. Talk to you later. Troy