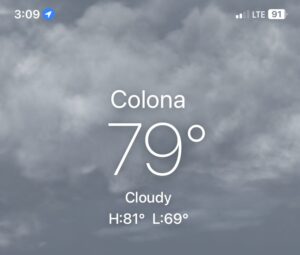 I had only thrown my boat in The Canal a couple times in the last six weeks, spending more time walking and exploring on several occasions instead. With a few late afternoon hours to spare on this day I decided to pack up the boat and hit a stretch that I had yet to visit in 2023. Between extremely low water levels and abundant surface vegetation, the spot hadn't been on my list. But there's bass all along The Canal and it was time to give it a shot.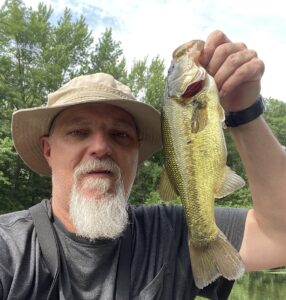 3:57pm – Top Bass at 0-15 and the only "keeper" of the afternoon
Stats
Date: July 2
Location: Hennepin Canal
Time: 2:30pm-4:45pm
Totals: 8 bass
Weather: Partly cloudy/breezy, 79F
Lures: Booyah Buzzbait (white) – 5 bass, 5" Yamasenko wacky rig (natural shad) – 2 bass, Spro Flappin Frog 65 (albino) – 1 bass
Top Bass: 0-15 Buzzbait
Top 1 Weight (only 1 at 12" or better): 0-15 (0-15)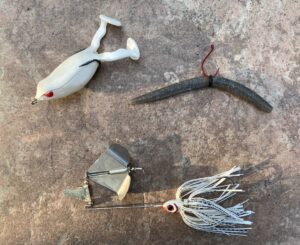 Winning Lures
Notes and Nonsense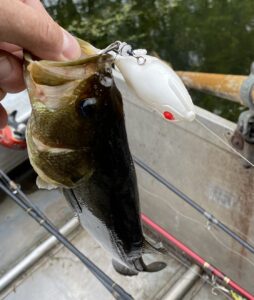 3:46pm – Got the frog bass that I have been seeking
Monkey (or Frog) Off My Back – The struggle is over as I finally get a frog bass in the log from The Canal for 2023. If you have read my prior Canal reports, you are aware that I just don't have the touch with a topwater frog on a waterway custom-made for such an approach. However, I think I found a frog that gives me some confidence and a catch sure helps out. The Spro Flappin Frog caught my eye at an area baitshop as I picked up three repaired rods a couple of weeks ago. The flapping legs were what I was looking for to cause more commotion than the living rubber strands on the frogs that I had been throwing. The frog also turned out to be thicker skinned, giving it a bit more heft for casting. The short bass ended up tearing the guts out through the belly of the frog, but it all went back together with no noticeable damage. One bass down and hopefully more (and bigger) to come.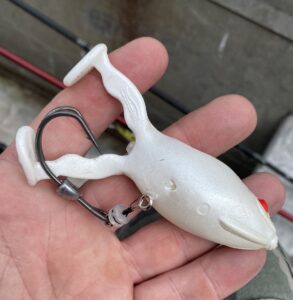 The frog took a beating on its lone bite but no worse for wear after reassembly
Compliment of the Day – A fellow was riding his bike along the towpath as I began my afternoon, and we chatted as he made a brief stop. On his return, he stopped a ways ahead of where I was slowly drifting down The Canal firing away with my buzzbait. As luck would have it, I hooked a bass in his direction while he observed. While it happened to be the biggest bass of the trip, that wasn't saying a whole lot. However, the biker was evidently impressed by my approach and catch as he offered up, "You really look like you know what you are doing." I thanked him and related that I've had plenty of practice. The solitude that most of my fishing offers is good for the mind but I will admit that it is kind of fun when you catch one while somebody is watching.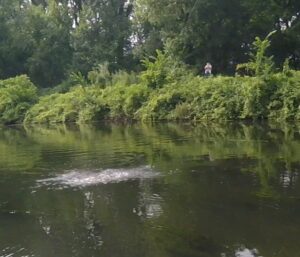 A timely strike can make it look like "you know what you are doing."
Not a whole lot more to report on this outing as I couldn't muster up any quality bites. Enough to "keep me interested" but "nothing to write home about" as the old sayings go. But there's always a report to pass along. Got a couple more in the works and a Top 5 Update coming your way tomorrow. Talk to you later. Troy