Three more bass totaling just over ten pounds join the list during the recent heatwave. Conditions may be tough on anglers, but those fish are still out there. Early or late in the day can be your best shot as the bass are a bit more prone to chasing a lure in the lowlight conditions (see the second and third entries below). Then again, sometimes you get a bit lucky as in the first bass on our list. Just proves that anything can happen if you have a lure in the water and you can't catch them sitting at home on the couch.
Weight: 4-1 (20.5")
Angler: Troy Jackson
Date: July 24
Weather: Sunny/calm
Location: Knox County public strip pit
Lure: Spro Flappin Frog 65 (natural frog)
Structure: Open water with submerged weed clumps
Angler Comments: Open water on a hot, bright, sunny July day at 1:43pm is not the ideal setup for a topwater frog bite. However, I was getting hits on the weed mats and along the weed edges, so I opted for a long cast to cover a lot of water featuring scattered, submerged weed clumps. Luck was on my side, but I'd like to think that experience and instinct had a role as well as there is more to this story for another day.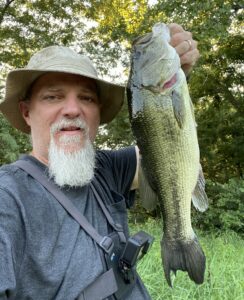 Weight: 3-0 (19.5")
Angler: Troy Jackson
Date: July 29
Weather: Partly cloudy/calm
Location: Hennepin Canal
Lure: 5" Yamasenko wacky rig (natural shad)
Structure: Weed edge
Angler Comments: The Cubs 6:15pm start was under what looked to be a significant rain delay, so I ditched my radio for my bike and set off to The Canal. Glad I did, as I landed several bass including this lengthy three-pounder. Got back to my truck around 8:30pm to find the Cubs with a 2-1 lead in the third enroute to their eight straight victory. That's a good night.
Top 5 Weight: 21-9 (5-3,4-10,4-2,4-1,3-9) culls a 3-7
Weight: 3-3
Angler: Brent Jackson
Date: July 29
Location: Snakeden Hollow
Lure: Rapala Skitter Pop
Editor's Note: I have included a text that I received from Brent to go along with his submission. As you can see below, he had quite a day on the water, taking full advantage of the morning bite window.
Top 5 Weight: 16-0 (3-8,3-5,3-3,3-1,2-15) culls a 2-13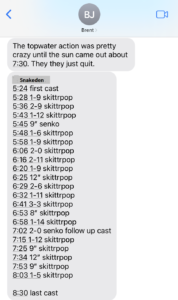 The heatwave broke for the weekend, but I suspect that we have not seen the last of the dog days of summer as August arrives. Bear in mind the tips to take away from today's update. The early and late approach is a winner in the heat, but also don't forget that "the best time to go fishing is any time you can." Good luck and talk to you later. Troy