Every fall, most of the Knox County public strip mines go off limits to anglers around the middle of October. That is a discussion for a separate post. For this report, we'll stick to the home stretch approach of at least "one more visit" before we get locked out. And this visit turned out to be worth our while.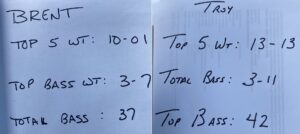 Pre-launch predictions for our combined totals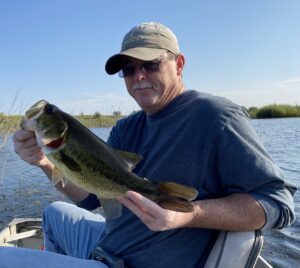 9:02am – Solid first bass at 2-6 (15.5″) on a spinnerbait and would be the eighth largest bass of the day
Stats
Date: September 24
Location: Knox County public strip mines (5 lakes)
Time: 10:05am-1:30pm (6.00 hours fishing, the rest walking)
Totals: 36 bass (Troy – 23 bass, Brent 13 bass in two less hours of fishing)
Weather: Sunny/windy, 62-77F
Lures: 5" Yamasenko wacky rig (assorted colors) – 19 bass, Spinnerbait (green/white or chartreuse/white) – 14 bass, Whopper Plopper 110 (bone) – 2 bass, Spro Flappin Frog 65 (natural red) – 1 bass
Top Bass: 4-4 Spinnerbait (Brent)
Top 5 Weight: 15-11 (4-4,3-2,2-15,2-12,2-10)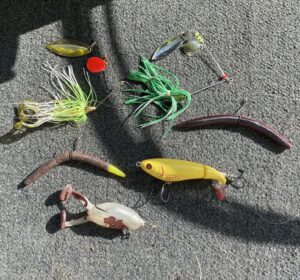 Winning Lures
Notes and Nonsense
Rowing Role – We started our day on a lake where we could fish from our little john boat which means that somebody had to row. Rather than flip a coin or draw straws, I volunteered to provide the horsepower. I keep the boat at my house, so I get more use than Brent, who relies on his kayak when fishing from a small watercraft. As such, it was proper to take that portion of the guide role and sacrifice a few casts along the way. I suspect that it has all evened out on the oars over the years and we always have a good time no matter who is catching.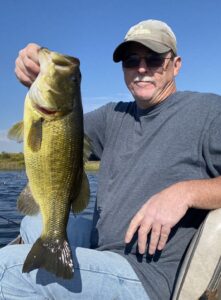 9:52am – Top Bass at 4-4 (19″), also Brent's Top 2023 Bass and a new lake record
Lake Record – Brent's fourth fish was a 4-4 on a spinnerbait that not only set a record for the lake we were fishing but also landed as his Top Bass for 2023 (so far). His 4-4 topped a 4-2 that I had fooled back in early May for the former lake record. Brent also landed a 3-2 (also on a spinnerbait) less than an hour later that would be our Top Bass Runner-Up for the day. Both bass gave the Top 5 all-time totals for the lake a boost. The mark now stands at 18-3 (4-4,4-2,3-7,3-4,3-2).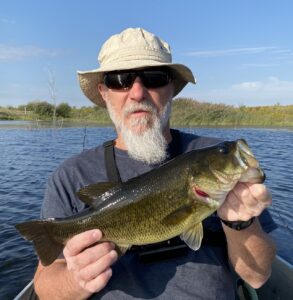 9:16am – My Top Bass of the day at 2-15 (17″) on a Senko wacky rig
Guide Tip – At one point, I directed Brent to a solid spinnerbait setup as I positioned the boat in the wind for a good casting angle. The spot featured a laydown in a couple of feet of water with one end sitting on the drop into an open water bowl ringed by timber on the deepest section of the lake. I commented that I had caught a couple nice fish on the log in the spring. In eight minutes, Brent proceeded to land three more "keepers" on the spot with a 3-2, 2-7, and 1-7, all on his spinnerbait.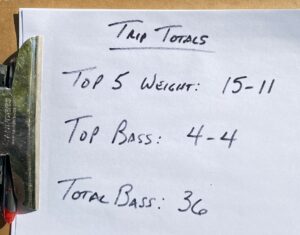 Official Results – Weight exceeded both of our predictions, I was closest on Top Bass while Brent was closest on Total Bass guess
Afternoon Stroll – The walk-in strip mines are no walk in the park, but I was determined to give them a shot to end the day. Brent was on board as well and fished along for just over an hour. I stuck around longer and wound up with a decent quantity of eleven bass, but I could not find any quality bites with a pair at 1-4 being the best.
The Knox County strip mines have been our top producers in 2023, both in terms of numbers and size. As we head to October, it is crunch time on these waters and time will tell if we get back for another shot. Following this trip, we were able to get back on the water but opted for another favorite fall fishing destination, Lake Storey. Stay tuned for the report and talk to you later. Troy