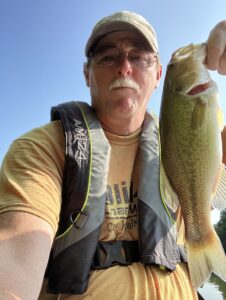 I got the above text and picture from Brent on Sunday morning.
"Top secret' initially had my mind going in a couple of different directions. But having spent much of the previous day with Brent at a band competition, I had a pretty good idea where he landed this fish.
Read on for the results and the reveal.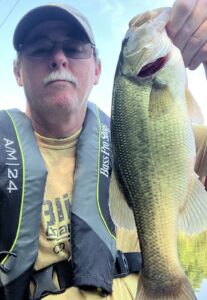 Top Bass at 1-10 on a Senko wacky rig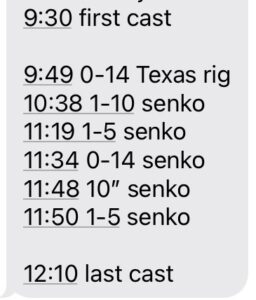 Stats
Date: September 10
Location: Top Secret Lake
Time: 9:30am-12:10pm
Totals: 6 bass
Lures: Senko wacky rig – 5 bass, Texas rigged worm – 1 bass
Top Bass: 1-10 Senko
Top 5 Weight: 6-0 (1-10,1-5,1-5,0-14,0-14)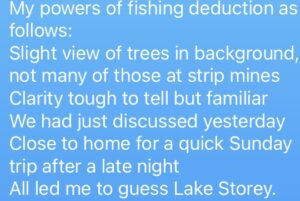 This is a favorite time of the year for me as I always look forward to the annual Lake Storey "fall" drawdown. Before Brent sent his initial cryptic text, I had another of my sources report in with a status update. Friend and Top 5 angler, John Kirkemo, sent me a message confirming that the drawdown was underway.
For those not familiar with the Lake Storey fall drawdown, it is a fisheries management practice that involves dropping the lake level. This is done by opening a valve which allows water to drain into the creek below the dam. The lowering of the lake level leaves shoreline structure such a weed beds, rocky banks, and fallen trees high and dry. As a result, smaller forage fish have fewer places to hide, thus allowing the larger predator fish to take advantage and ideally strike a healthy predator-prey balance. For anglers, this can produce a solid bite as some of those predators let their guard down while feeding up in anticipation of the arrival of the cold water period of the calendar. We have taken our shot every September and October for many years and plans are the works to do it again soon. Stay tuned and talk to you later. Troy