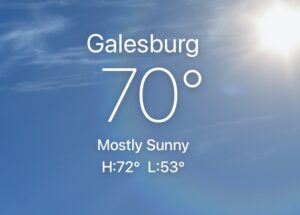 It's that time of year again when the decision is made to pull the plug on Lake Storey for the annual fall drawdown. This fisheries management practice drops the lake level and limits the hiding places for prey fish allowing the predator fish an increased opportunity to thin the herd. It can also reveal some secrets on the lake bottom and give anglers a shot at a quality bite as fall feeding activity kicks into gear. Last Friday, I paid a visit to my old favorite lake and had a solid day.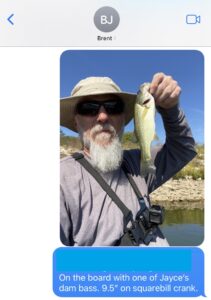 11:23am – First bass and a running joke with Brent and my son, Jayce (note the water retention structure in the background)
Stats
Date: September 15
Location: Lake Storey, Knox County, IL
Time: 11:15am-6:15pm
Totals: 16 bass
Weather: Sunny/breezy, 56-74F
Water temperature: 74-76F
Lures: War Eagle spinnerbait (chartreuse/white) – 8 bass, Strike King Squarebill Crankbait (natural pumpkinseed) – 2 bass, Strike King Red Eye Shad (sexy shad) – 2 bass, 5" Yamasenko wacky rig (peanut butter and jelly) – 2 bass, Strike King Rattling Pro Model Jig (green pumpkin) with plastic craw trailer – 1 bass, Mann's Baby 1- Crankbait (red craw) – 1 bass
Top Bass: 2-0 Spinnerbait
Top 5 Weight: 8-11 (2-0,1-13,1-13,1-12,1-5)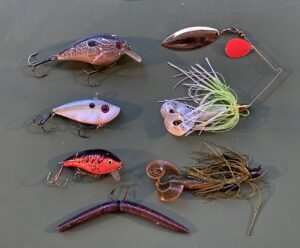 Winning Lures
Notes and Nonsense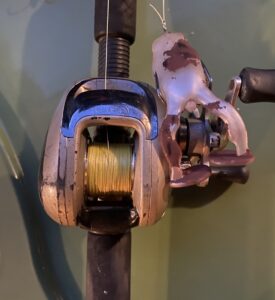 The beat up frog was the lone lure of my offerings that failed to land a bass
Six for Seven – Being one to take too much gear, I had seven poles rigged up with what I call my "starting lineup." I never switched from those lures, simply retying when concerned about line abrasions. Of my starting seven, only the Spro Flappin Frog 65 came up empty and not for lack of effort as I put it to use in several areas. The other six lures all caught at least one bass and made me feel like I knew what I was doing out there. I guess nearly forty years of practice comes in handy.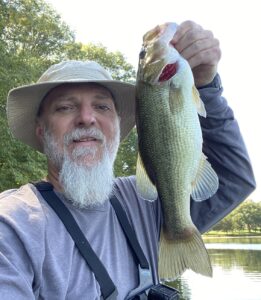 2:48pm – Top Bass at 2-0 (16.5″) on a spinnerbait
One That Got Away – As I worked an extended shallow flat, I spotted an upright trash barrel just under the surface. I goofed around tossing a Senko into the barrel thinking that it would make quite a story, but no one took the bait. However, a subsequent cast near the barrel resulted in something hitting my Senko like a freight train and causing the drag to scream. Unfortunately, the suddenness of the strike caught me off guard and I never got much of a hookset before the fish just let go and my Senko flew out of the water from the resultant loss of rod tension. I never saw the fish, so I have no idea what it was. My guess is a catfish as a muskie may have simply sliced the 10-pound test. I am also guessing it was not a bass as the thought of missing one of that caliber would be a bit heartbreaking.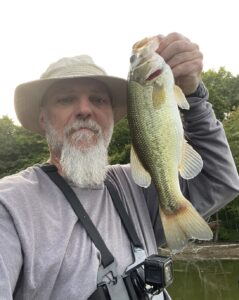 6:11pm – Lake Storey Bass #400 (see explanation below)
Lake Storey 400 – I am a stat freak and try to consult my data prior to each trip to see what sort of milestones or targets to consider. In the case of Lake Storey, I needed sixteen bass to reach four hundred bass during what I call the "computer age" (continuous log/database dating from 1997-present). Of course, I forgot as soon as I got into my Lake Storey focused mindset and did not realize until later that I had landed exactly sixteen bass. Bass #400 came within sight of the ramp and a mere four minutes before I called it quits. In addition, it made my Top 5 for the day meaning it needed to pose for a photo. Luck was on my side all the way around.
Seven hours on Lake Storey provided plenty to blog about but I'll save the additional notes for a separate post. I'll close this report with a tale from a pair of fellow anglers during a brief evening chat in the ramp parking lot. A mother and young son were returning to their vehicle as I was securing the boat and asked if I had any luck. I replied that I was pleased with the outing and threw a few numbers at them. They offered up "all we caught was a shoe." I informed them that they had outdone me on that catch as I have landed a glove and a sock over the years, but never a shoe. I told them that it will make for a good story to retell and added, "It didn't have a foot in it, did it?" All good.
Talk to you later. Troy