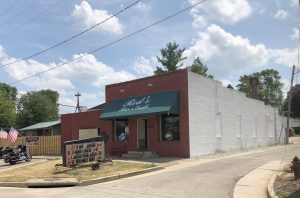 Many years since I bellied up to this bar
I've got some catching up to do as the first "lucky shirt" hit the water last summer. While that's not actually a contemporary fishing trip, I guess that's part of the point to this whole project. Besides, it would be an injustice to forego the original in favor of the most recent.
So, here we go.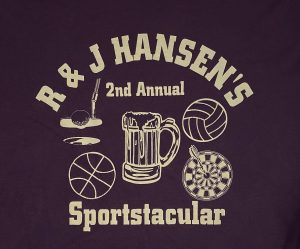 We're looking at a vintage R&J's Sportstacular t-shirt today.
I know what you're thinking. Where's R&J's and what's a Sportstacular?
R&J's was a tavern, watering hole, gathering place located in Sheffield, Illinois.
You know Sheffield, right? Kind of north of Neponset, roughly centered between Mineral and Wyanet?
R&J are Rodger and Joe, two of the three Hansen brothers (younger brother Michael) who operated the establishment and devised the Sportstacular. Along with a batch of Knox College buddies I met the Hansen brothers after first meeting their sister, Kathy, who was a fellow Siwash in the late1980s/early 1990s (actually we're kind of always a Siwash).
As the Hansen's were fellow sports nuts and enjoyed the occasional cold one, we all hit it off pretty well. From the sport and beverage combo arose an event that they deemed The Sportstacular, kind of like a team oriented Olympics with beer. The one day event kicked off with each four participant team playing a round of golf and likely having a few morning beers. Following the round, it was back to R&J's for the three remaining events, darts and sand volleyball at the bar and free throw shooting at the village park. Oh yeah, and some beer. They also had something onsite called Rolle Bolle that we played at times but I do not recall it actually being included as an event. Please cut me some slack on the exact details as it was around 25 years ago, and remember, there was a fair amount of beer involved.
Julie and I actually took a road trip to the area last summer to snap a few pics.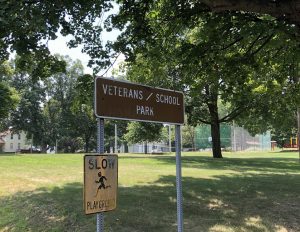 Site of the free throw event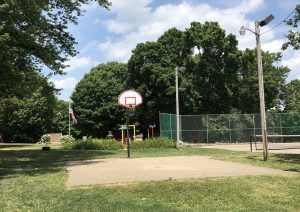 The old court but I believe a new hoop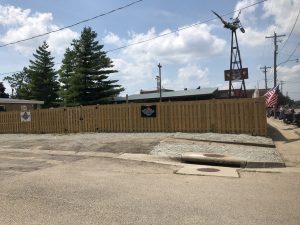 Sand volleyball and Rolle Bolle, once upon a time
Fast forward to July 13, 2019 when I decided to kick off the "Lucky Shirt" project. What better shirt on a hot summer day than one that I earned on another hot summer day many years ago. The fishing portion of the project consisted of an enjoyable strip mine outing with my friend, John Kirkemo. The results of our outing are below and the original fishing report can be found by clicking here.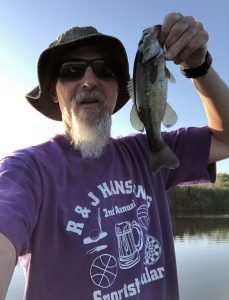 Date: July 13, 2019 with John Kirkemo
Location: Knox County, IL private strip mines (2 lakes)
Time: 5:00am-11:30am
Weather: Sunny/breezy to calm
Air Temp: 68-86F
Water Temp: 82-83F
Totals: 16 bass
Lures:
5" Yamasenko wacky rig (various) – 13 bass
Booyah Buzz Buzzbait (snow white shad) – 2 bass
Spinning Worm Rig – 1 bass
Top Bass: 1-7 (Senko)
Top 5 Weight (only 4 at 12" or better): 4-6 (1-7,1-4,1-0,0-11)
As far as Sportstacular results, I know that we did not claim the title in any of the three years I was involved. But if you could quantify fun and you were counting beers, I suppose that our foursome of John Junk, Mark Junk, Matt Reynolds and myself (weakest link in the beer department) were perennial frontrunners.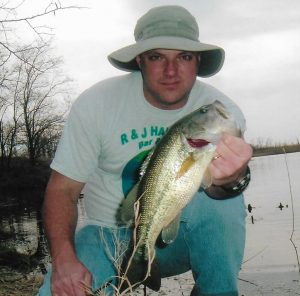 Bonus pic from 3/27/07 with my original R&J Hansen's shirt, wore it until it wore out.
And there you have it, "Lucky Shirt" post number one with many more to follow. A fine place to start the series. A small town, good times, good friends and good memories, from what I can remember. Talk to you later. Troy