A couple late summer fishing trips to an area farm pond with Dad were custom made for a pair of days when I had a few hours to get away. Not only was it several enjoyable and successful hours with Dad but it also answered the often asked question:
"Who is the U.L. Washington of fishing?"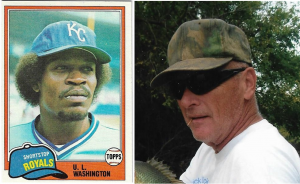 Is Terry Jackson the U.L. Washington of fishing? Or, is U.L. the T.J. of baseball? Take your pick from these masters of the toothpick.
Originally Posted 9-12-10
On Friday I had a few hours to get away after dropping off the girls at school and was torn between Little John Conservation Club and Snakeden Hollow. Instead, Dad invited me along to a farm pond on some land that he traps. He'd caught over a hundred bluegill during a pair of recent solo trips while fishing from the bank but with less than a quarter of the shoreline fishable on foot he figured that we'd take the little johnboat and explore the rest while taking a shot at the bass population. Here's how it went.
Date: September 10, 2010
Location: Warren County farm pond
Time: 9:00am-12:30pm
Air Temp: 65F
Totals: 17 bluegill (Dad 17, Troy 0), 16 bass (Troy 14, Dad 2)
Lures: 5" Yammasenko wacky rig (natural shad or bubblegum) – 14 bass, Zoom Baby Brush Hog – 2 bass, waxworms on jighead hung from bobber – 17 bluegill
Top Bass: 2-3 (Troy – Senko)
Top 5 Weight: 7-10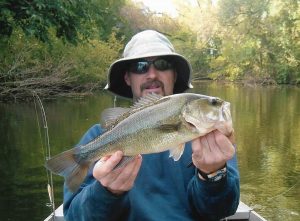 September 10, 2010 – Top Bass at 2-3 on a Senko
Notes & Nonsense
Different Targets – In all fairness to Dad, he stopped fishing for bass after our first lap which only produced five fish so the final totals are skewed in my favor. On the other hand, the bass kept me interested enough that I never picked up the ultralight rig I'd packed along just in case.
One That Got Away – On an earlier trip, Dad lost a roughly five pound catfish at the bank while panfishing with waxworms. This time around, an even larger whiskered fish took a shot at the bait but spit the jighead following a wild explosion at the surface. It seems like it might be worth targeting another species at some point in the future.
New Terminology – For years we referred to short bass (9-10") we caught anywhere as "Bracken Bass" due to the multitude of these fish that called Lake Bracken home back in the 1980's. In a similar development, Dad called the fish pictured below an "Emiquon Bass" as I lipped it at boatside. Sure enough, the healthy looking bass measured 14" and tipped the scales at 1-9, quite like its thousands of relatives to the south.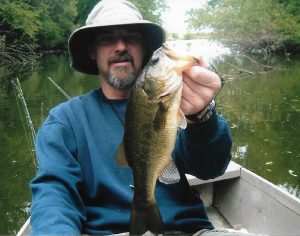 September 10, 2010 – A solid bodied "Emiquon Bass" from Lucas' Pond
Originally posted 9-22-10
Date: September 21, 2010
Location: Warren County farm pond
Time: 8:45am-11:45am
Air Temp: 75-85F
Totals: 11 bass (Dad 6, Troy 5), 1 redear (Dad)
Lures: 5" Yammasenko wacky rig (natural shad or clear with large black flake) – all fish
Top Bass: 1-5 (Dad)
Top 5 Weight: 3-8 (only three bass 12" or better)
Notes & Nonsense
Surprise – Well, we were certainly aware of the pond population containing bluegill, largemouth bass, crappie and channel catfish. But a slight flash of red below the surface as Dad reeled in a hookup prompted me to say, "That looks like a redear." Sure enough, my assessment was correct as evidenced by the photo below.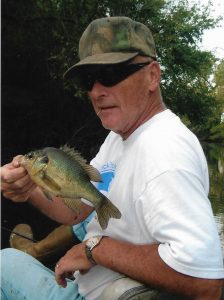 September 21, 2010 – Dad with a redear to claim the species title
Luck – Dad offered me a good luck charm off of the patio table before we left but I declined. So I guess I shouldn't have been too surprised that he wound up with Top Bass, most fish and claimed the species title as well. He reminded me of my decision as we got back in the truck to leave, producing a lucky buckeye from his pocket. He and my brother, Brent, have employed the lucky buckeye tradition for many years particularly when squirrel hunting. Maybe next time I'll give it a go instead of relying solely on my floppy hat and shirts that should have bit the dust long ago.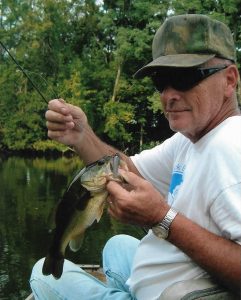 September 21, 2010 – Dad with Top Bass at 1-5 on a Senko
I only work two days for the rest of the month and have plans to get on the water as much as the daily routine allows. I'm sure Mother Nature will have her say as usual during my vacation but I've got my fingers crossed. Hopefully we can also turn up some better fish as 2010 has left much to be desired in terms of quality. But such is one of the perils I foresaw when deciding to do the blog thing. I've got to tell it like it is, whether it's flattering or not.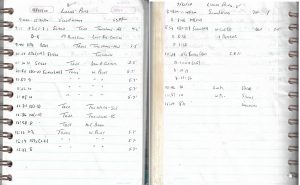 Sure wish I only had to work for two more days the rest of the month in 2020, but no such luck. However, another aspect of that original concluding paragraph turned out to be right on the money as we were able to "turn up some better fish" as 2010 wound down. Those fish are the subjects of several Friday Flashbacks over the next month or so. Talk to you later. Troy