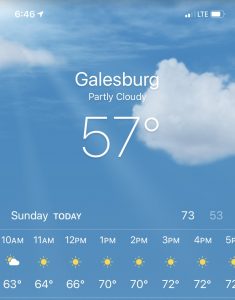 I always look forward to the "Fall Drawdown" at Lake Storey in Knox County, Illinois which typically begins just after Labor Day. In general terms, here's how it is supposed to transpire.
1. The City of Galesburg Park Department opens the valve to lower the lake.
2. The lake drops and leaves the spots for little fish to hide high and dry.
3. Cooler nights and warmer days get the predator fish in a fall feeding mood.
4. Me and Brent clean house on the often challenging lake.
And here's how it really went down in blog terms.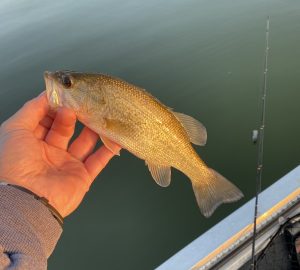 6:57am – First bass on KVD Squarebill crankbait
Stats
Date: September 13, 2020
Location: Lake Storey – Knox County, IL
Time: 6:40am-10:55am
Weather: Partly cloudy to sunny/breezy
Air Temp: 58-73F
Water Temp: 67-69F
Totals: 5 bass (Troy – 4 bass, Brent – 1 bass)
Lures: Spinnerbait (white) – 3 bass, KVD Strike King Rattling Squarebill crankbait (natural pumpkinseed) – 1 bass, Red Eye Shad (sexy shad) – 1 bass
Top Bass: 1-5 Spinnerbait
Top 5 Weight: 1-5 (only one at 12" or better)
Notes and Nonsense
The In Crowd – By most accounts, recreational fishing has seen a significant uptick in 2020 as a ripple effect of the pandemic. Lake Storey supported the validity of such an assessment with six trailers in the lot and a flotilla of kayaks scattered about the lake. Good for folks to get outdoors in these wild times and it appeared that crappie or bluegill were the targets for those we observed. Nobody else seemed to be casting and moving and honestly they weren't missing much from our perspective. Then again, maybe they knew something we didn't and opted to leave the bass alone.
Mr. Lake Storey – And, yes, on occasion there's that one guy who owns the lake and feels that the rules do not apply to him. In this case, he was running his outboard at a pretty good clip around the lake multiple times. Several kayakers, bank anglers and other boaters hollered at him to no avail. In fact, he actually waved at us as he sped by in the distance. Brent and I elected to wave back rather than respond with an alternate hand gesture. Who knows, maybe the guy was just clueless but kind of hard to believe he was unaware of the trolling motor only restriction.
Proven winners at Lake Storey but limited production on this outing
Excuses – I was feeling good about our chances leading up to the trip as the weather had been warming for a couple days after a cold front and heavy rain. Word also had it that the drawdown had begun many days prior. It turns out that the level had not dropped much at all, seemingly filling up from the rain as much as the drop from the drain. In addition, the rain had the clarity murkier than the normal green tint and was progressively dirtier to the east away from the dam. All our meager catches came from the west end of the lake and none more than a quarter of the way to the inflow near the east ramp.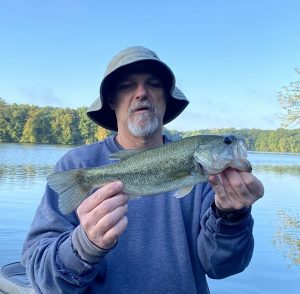 7:44am – Retro floppy hat and Top Bass of the day on Blue Glimmer spinnerbait
Old Hat – I managed to destroy my lucky floppy fishing hat and elected to go retro with a previous version instead of breaking out a new one. While I do have a couple new options, I wish to put 2020 behind us and start 2021 with a new floppy. More on that at a later date.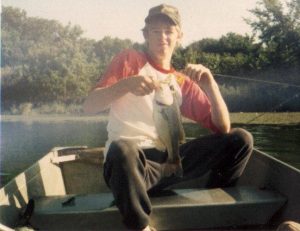 I feel bad as I failed to get a shot of my fishing partner but always like this 1980s Lake Storey shot of Brent
BREAKING UPDATE!!!
 I paid a short visit to Lake Storey last evening and walked the bank armed with a couple poles. Three bass in roughly 75 minutes of casting in a pair of spots was certainly an improvement over last week's visit. Looks like the increased drawdown and the cool nights/warm days combo has some fish in a biting mood.
I believe the anticipated fall fishing bite has arrived, just a few days early. Get out there and get after some bites. Talk to you later. Troy