As often happens when I am "back home" in Galesburg, Illinois, I take a drive or a walk around an old favorite fishing hole, Lake Storey. A recent family get together was no exception other than the fact that I brought a couple poles along for my stroll.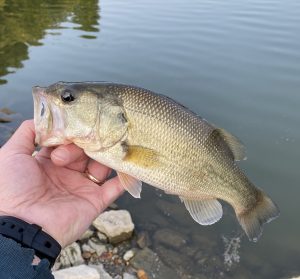 6:05pm – First bass of the evening on Mann's Baby 1- crankbait
Stats
Date: September 19, 2020
Location: Lake Storey – Knox County, IL
Time: 5:50pm-7:20pm
Weather: Sunny/calm
Air Temp: 65F
Water Temp: no reading
Totals: 3 bass
Lures: Mann's Baby 1- crankbait (chrome blue back) – 3 bass
Top Bass: 0-15
Top 5 Weight: 1-13 (only two at 12" or better)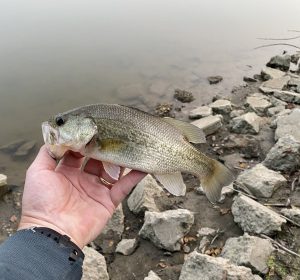 6:53pm – Mann's Baby 1- crankbait and kind of a baby bass
Notes and Nonsense
Bank vs. Boat – Go figure that my brother, Brent, and I spent over four hours in a boat on Lake Storey the previous weekend and only managed five bass with the whole lake at our disposal. In contrast, I spent maybe an hour casting in two stretches of perhaps a couple hundred yards and fooled three from the bank. This is not the first time I've witnessed this sort of thing and I do have some ideas on the increase in bass/hour. A topic for another time but factors to consider include different casting angles, enhanced focus on a specific, proven area and in this case, an increased drop in lake level.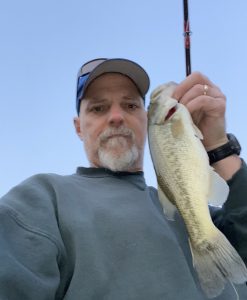 7:10pm – last bass also on the Mann's Baby 1- crankbait
Normal vs. Drop – Lake Storey is always a challenge for me and I give myself and co-anglers a little pat on the back for every bass we fool. For many years I have made it a point to pay a visit or two during the fall drawdown as I feel it can tilt the odds a little more in my favor when I can catch it right. Of course, there are plenty of factors that come into play any time you hit the water and stable weather, some sun and a little breeze are at the top of my Lake Storey fall trip wishlist.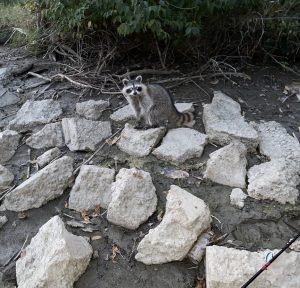 This guy was pretty friendly and encroached on my fishing spot
Man vs. Raccoon – Raccoons and my family are not on the friendliest terms. You see, between my dad, my uncle, my cousins, my brother, myself, spouses and kids there would have to be well over 200 years of combined trapping experience. However, the proximity of my visitor pictured above may indicate that the tensions have decreased as we all retired from the trapline several years ago. Lots of stories from those days though. Made me wish that I'd asked the coon if his kind told stories about The Jacksons.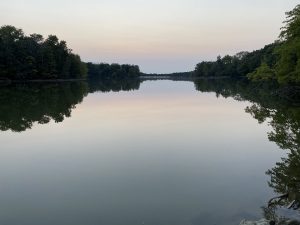 Lots of memories out on that old lake and fun to create a few more on a pleasant late summer evening. From my vantage point at Cannon Hill in the shot above I can see where I caught my personal best muskie, where I lost one that was bigger, where Brent set the Lake Storey bass record, where Dad caught a bass out of a hollow stump, where possibly the largest Lake Storey walleye ever was caught, where an Illinois state record muskie was landed in the 1980s…the memories go on and on. Perhaps 2020 holds another shot to make some more. Talk to you later. Troy