For the "Snakeden at 30" grand finale, we take a look at the record book. Below is a breakdown of the largest bass caught from 26 different lakes on the site over the last 30 years.
But first, let's get a little background on the data.
Some bass are more impressive than others.
Some lakes on the list didn't exist when Snakeden went public.
Some lakes no longer support a fish population.
Some lakes have "official" names while others are my own creations. I didn't use either in the list, gotta leave a little mystery.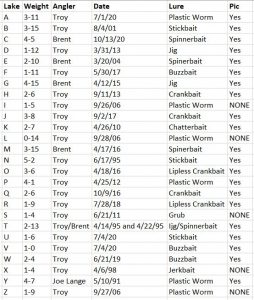 Disclaimer: The list above and the slideshow below include only myself and a couple fishing partners with all catches verified. Certainly other anglers have bigger and better fish stories, so take the list for what it is worth, just my two cents. Over the years, I have received numerous reports, weights and photos from fellow anglers which would rewrite portions of this record book. However, those are not tales for me to tell. But I will say that those submission include bass up to seven pounds.
The slideshow to follow features pics of the bass on the record book list with a few exceptions. No pictures exist for five of the bass on the list, all of which are under the two-pound mark.
And with that, "Snakeden at 30" comes to a conclusion. Fun for me to reminisce on the past catches as I've meant to compile such a list for quite a few years. And although the list features 26 different lakes, there are still others that have no established records. In addition, I lost a bass on one of the lakes this year (fittingly Lake X) that would have shattered the established record. Sounds like I need to compile a 2021 fishing to-do list.
In the meantime, back with a couple more Citizen's Lake posts. Talk to you later. Troy