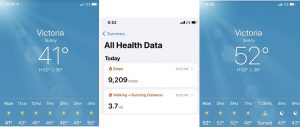 Good Friday turned out to be a good day of fishing for the Brothers Jackson despite some less-than-optimal fishing conditions. The sunny skies were deceiving as air temps lingered in the 40s most of the day and strong winds made it feel even colder. Fortunately, the weather had more of an effect on the fishermen than the fish.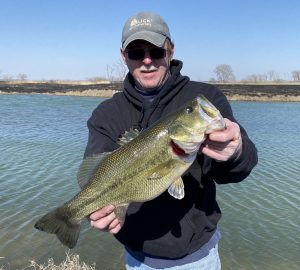 Top Bass was Brent's 4-0 on a Bomber Flat A crankbait (read on for some cool release footage)
Stats
Date: April 2, 2021
Location: Knox County, IL public strip mines (7 lakes)
Time: 11:05am-3:50pm (4.75 hours fishing)
Weather: Sunny/very windy
Air Temp: 41-52F (felt much colder)
Water Temp: not available
Totals: 20 bass
Lures: Rapala Shad Rap (shad) – 12 bass, Bomber Flat A crankbait – 4 bass, Strike King Red Eye Shad – 2 bass, Jig & Plastic (black/blue) – 2 bass
Top 5 Weight: 12-4 (4-0,3-1,1-13,1-12,1-10) – see video below featuring the Top 5
Notes and Nonsense
Weather – It started out cold with wind chills in the 30s and I actually think it got colder at times even though the temperature went up if that makes sense. Numb fingers and runny noses were standard for most of the day although I did reach a point in the afternoon where I could feel all my digits.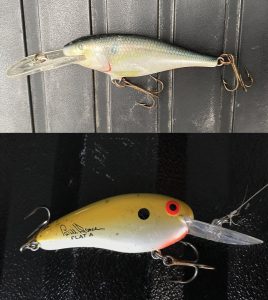 Old School – Rapala Shad Rap (top) and Bomber Flat A (bottom)
Classic Cranks – With all the latest in lures gracing the shelves and cyber shops, you'd think we'd get with the program. Now, I do have plenty of newer lures but there is something to be said about old school, narrow/flat sided, unassuming crankbaits in cold water. For this trip, the Rapala Shad Rap and the Bomber Flat A were co-MVPs (most valuable presentations). I won't pretend to know why but these toned-down offerings are preferred over louder cranks with a wider wobble when the water temps are low.
Last Cast – We'd planned on fishing until about 4:00pm since I had a football game to attend as my girls are in the color guard. So, at 3:47pm I am about 100 yards away from Brent when I hear him holler "I got a good one." I quickly ditch my pole and head his direction as rapidly as a 50-something guy with a phone shooting video can move over strip mine bank terrain (kind of on autopilot upon seeing the bend in his pole). Upon arriving, I find that he has shattered the former lake record of 1-14. In fact, he more than doubled the mark with the 4-0. After weighing, photographing, and releasing the fish I offer up that I am done for the day, satisfied with that being an outstanding last cast. Brent agreed with that exclamation point to cap a solid day and we headed for our trucks.
Certainly, a successful day on the water, always enjoyable to get out for some fresh air and chase bass with a longtime fishing partner. Rewarding that a couple guys who started chasing those wily fish together as teenagers are still fooling them in their fifties. More to come from this outing and another fishing trip when time permits as my real job is taking me away from the blogging thing for a bit. Talk to you later. Troy