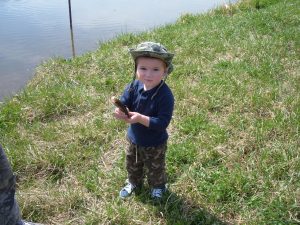 Originally posted 4-21-11 as "That's Our Boy"
While I'm no blogging expert, I'd say you can't go wrong with a post about taking a kid fishing.
Although I hadn't anticipated getting on the water for a while, I managed to get in a bonus trip when Dad called one day last week to invite me and my son, Jayce, to visit a Warren County farm pond. It was a perfect opportunity for three generations of Jackson boys to spend some time together outdoors and for Julie to get some peace and quiet since the girls were at school.
We spent a little over an hour at the pond where I was able to shoot some video and fire off a handful of pictures. As a parent it's tough to weed out the "bad" photos of your kid so I've included more than a few to accompany the words.
Jayce was quite excited to simply splash around with a film canister clamped over the lure on one of Papa's poles catching what we've always referred to as "moss bass."
When a real fish came along, he was more than eager to help by placing bluegills in our bucket.
Bass were released to fight again provided they recovered from a crash-landing courtesy of an almost two-year old's less than gentle technique. At least he hit the water though as he's got a pretty decent arm. Jayce did experience a bit of technical difficulty as he occasionally held his spinning rig upside down. We've always laughed at actors doing this in a television show or a movie, so the boy still needs some more work.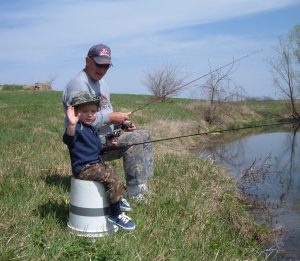 Our boy holds his rod and reel correctly these days, plenty of learning in the last 10 years
We watched a snake swim across the pond and the little guy got to experience his first tick. I found the nasty critter crawling up the back of Jayce's neck as he sat with me on the ground fishing. I later found another one on the front of my sweatshirt prompting a rash of phantom ticks for Dad and me the rest of the trip while Jayce was none the worse for wear.
Papa also took Jayce for a hike showing him how to recognize a good spot to catch a coon in a 220 boxset. Upon returning, Jayce informed me that he'd seen a "toon", but I suspected that he was just telling stories.
Further story telling was done to a herd of cows well beyond earshot as Jayce rambled on in that wonderful little kid version of English that occasionally uses a recognizable word. He also gave his sisters an earful after school that was at least descriptive enough to make them a bit jealous.
Oh yeah, since it was a "fishing" trip I suppose I should include the side note that a handful of bluegill and small bass were caught on light jigheads with twister tails (smoke or chartreuse) and tube jigs (pink/white); simply icing on the cake. Talk to you later. Troy