Last weekend, things finally aligned to get some of the kids out for a fishing trip. Initially, the only taker was my older son, Jayce, when I inquired on Friday night. However, the following morning, my younger boy, Zac, surprised me with "When are we going fishing?" Turns out that his decision to join the crew likely made it a more successful outing as we fished and explored for nearly three hours. I believe that having a brother along made it more fun that just hanging out with Dad. And that's just fine as I got a kick out of the pair wandering the bank with a GoPro in tow as I leisurely reeled in a batch of bluegill. Read on for the results and some observations.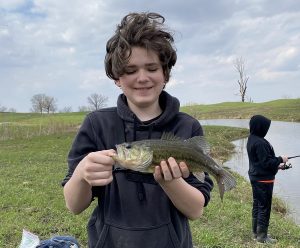 Top Bass on a Senko wacky rig
Stats
Date: April 24, 2021
Location: Knox County, IL public strip mine
Time: 3:35pm-6:35pm
Weather: Partly cloudy/windy
Air Temp: 64F
Water Temp: not available
Totals: 42 bluegill, 3 bass, 1 crappie
Lures: Waxworms on a jighead hung from a slip bobber, Senko wacky rig
Top Bass: Jayce at 1-3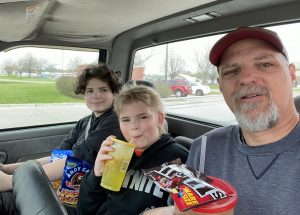 Bonus Stats
Drinks: 3 Mountain Dews, 2 Unsweetened Teas, 1 Dr. Pepper, 2 bottled waters
Grub: 2 Andy Capp Hot Fries, 2 orders of Buffalo Chicken strips, 2 orders of cheese curds, 1 shrimp basket, 1 order of onion rings, 1 pack of M&Ms
Notes and Nonsense
Antics and Chatter – Leading a pair of young boys on a fishing trip is, well, a trip. I observed a rendition of a portion of a Napoleon Dynamite dance as Zac apparently thought his boots were comparable to the movie character's. I caught bits and pieces of a discussion on the outcome of a Spawn vs. Ghost Rider battle. We stumbled upon what were termed "polders", a portmanteau of "pole" and "holders" that were actually crawdad holes. We dealt as best as we could with some funk in the cab of the truck as boots and shoes were ditched from achy feet. There were also a couple instances reminiscent of the Blazing Saddles campfire scene.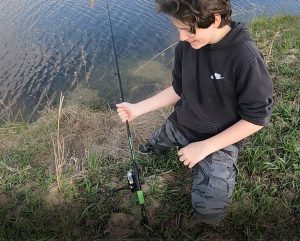 First known shot of a "polder"
We'll Be Back – The boys had watched the original Terminator movie in the morning before we took off to the fishing hole. As a result, we were keeping our eyes open and evading the Schwarzenegger character on our adventure. First up, was a suspicious fellow on a motorcycle at the bait shop in Carbon Cliff. Various other cyclists crossed our path along with several fuel tankers and we also observed a pair of countryside fires that we suspected were his handiwork. Fortunately, we all came through unscathed. In reviewing the boys' GoPro footage, I also became aware that Bigfoot was stalking us at some point. I guess what you don't know can't hurt you.
And the Winner is… – Zac was the bluegill champ and requested that I text Mom to "tell her that I caught two more bluegill than you." Well, I eventually did convey that tidbit and now I share it with those who are reading along. A good boost of fishing confidence for the young fellow; bluegills are great for just such a thing.
Regardless of who caught the most fish, we were all winners on this trip. I was pleased with the boys' effort in tackling a fifteen-minute walk to our fishing hole as well as their continued interest in getting some fresh air. In fact, they were all set to take another adventure lap around the lake before I informed them that it was best that we grab some supper and visit Grandma and Papa. Even fishing took a backseat to the latter prospect as the last year has been tough on all of us. Talk to you later. Troy