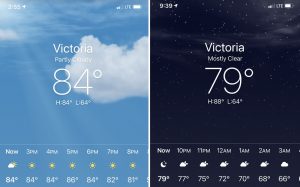 It sure felt like summer on the last day of spring so what better time for a workout walk-in at Snakeden Hollow? I psyched myself up as best I could during the hour drive to meet my brother, Brent, as I knew it would be a chore in the near 90-degree heat.
Was it worth it?
Read on.

Stats
Date: June 19, 2021
Location: Snakeden Hollow (4 lakes)
Time: 3:10pm-9:15pm (4.50 hours fishing, the rest walking)
Weather: Partly cloudy/windy to dead calm, hot and humid
Air Temp: 81-87F
Water Temp: no reading
Totals: 55 bass (Troy – 29, Brent – 26) and 2 bluegill
Lures: Yum Dinger wacky rig – 19 bass, Strike King Pro Model Series 4 Crankbait (sexy shad) – 17 bass, Strike King Red Eye Shad (sexy shad) – 10 bass, Emiquon Special Spinnerbait – 7 bass, War Eagle Spinnerbait (white/chartreuse) – 2 bass
Top Bass: 4-3 (Troy – Red Eye Shad)
Top 5 Weight: 13-5 (4-3,3-9,2-6,1-13,1-6)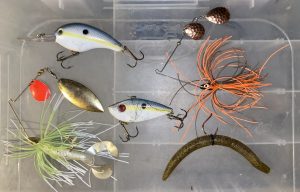 Winning Lures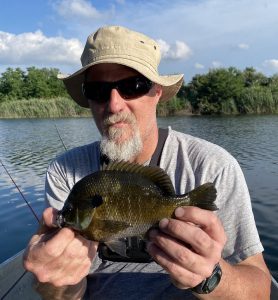 Bonus, big bluegill on a crankbait
Trip Lyric
"And I would walk 500 miles…" – I'm Gonne Be (500 Miles) – The Proclaimers (1993)
Notes and Nonsense
New Water, Old Tricks – Even after 34 years of fishing Snakeden, there are still things to learn. Back in March, Brent and I hiked in to check out one spot that I had always wanted to try but was never able to attempt. Our scouting trip revealed a positive change in water level and shoreline access and a few casts proved that there was at least one bass that called the lake home. On the return trip, Brent came armed with a wacky rig and a spinnerbait while I took to casting a crankbait, no surprise from either guy. The combined attack produced 34 bass as we drifted the shorelines with Brent working the shallows while I cranked the drops. Should we muster the energy again, a return trip would certainly be worthwhile.
7:20pm – Top Bass at 4-3 and 20″ on a lipless crankbait
Lost Tackle – While I was getting ready to replace a Senko wacky rig, our boat began to drift into some trees. I had several poles sticking out of the boat, so I instinctively reached to grab them and get them out of harm's way. What I failed to realize was that my film container holding my wacky rig hooks and O-rings was open in my hand. In the process of grabbing the poles, the entire contents flew out of the container. A sickening "plop" behind me clued me in that the gear was gone. Although not an expensive mistake, it was still disheartening and a bit embarrassing. Fortunately, my fishing partner is also a wacky guy and had plenty of spare items. However, I had a solid crankbait bite dialed in, so I did not have to resort to begging for a borrow.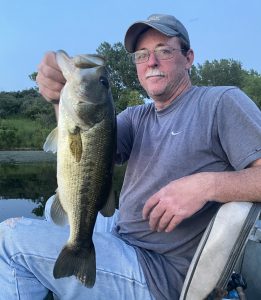 8:56pm – Brent Top Bass at 2-6 on a wacky rigged Yum Dinger
Change For the Better – I worked a six-month temporary stint at Snakeden back in 1990 and to say that it was in a primitive public access state would be an understatement. Of note for today's entry, were several nasty, barren depressions on the landscape that looked more like the lunar surface than our planet. One such area produced our two largest bass of the trip, so I'd like to give a well-deserved shout out to those who have managed the area over the years. It is incredibly rewarding to cast on the former sickly, damaged area all these years later. And nearly eight pounds of bass on two casts a half hour apart is quite rewarding as well.
As we trudged through our trek, I thought back to a challenging June 21, 2019, journey that Brent and I took to a remote Snakeden lake. We called that one the "100 Year Trip" as Brent was 49 and I was 51 for a combined 100 years of existence. I guess that this latest outing would be a "104 Year Trip" at 51 and 53 years of age. While 105 years might have been a better headline, if I wait until I turn 54 on July 23, I'm afraid the weather might be too hot. Near 90 degrees like this trip is just about my limit. Talk to you later. Troy