Just getting around to posting the report covering a batch of trips to the Hennepin Canal earlier this month.
Stats
Date: July 4, 18, 21, 2021
Location: Hennepin Canal – Henry County, IL
Time: Evenings (4.25 hours total)
Totals: 14 bass (5 bass 7/4, 5 bass 7/18, 4 bass 7/21)
Lures: 5" Yamasenko wacky rig (various colors) – 7 bass, Mann's Baby 1- Crankbait (red craw or rainbow) – 3 bass, Whopper Plopper (I Know It) – 3 bass, Strike King Squarebill crankbait (sexy shad) – 1 bass
Top Bass: 3-6 (Senko on 7/21)
Top 5 Weight 10-11 (3-6,2-10,2-0,1-7,1-4)
Notes and Nonsense
July 4 – Two spots and an hour and fifteen minutes of fishing up until sunset produced five bass with a Top Bass at 1-7 on a Senko wacky rig. Two other "keepers" (12" or better and always released), one on a Senko and the other on a Strike King Squarebill crankbait. A decent, abbreviated evening for me with plenty of action and plenty of mosquitoes.
July 18 – Two spots again on this evening with a slightly earlier start to give me an hour and forty-five minutes of casting. Five more bass with four "keepers" although the largest was only one pound even. A fair bite from the bass while the mosquito bite was over the top. Spoke to a fellow canal angler on this evening who was employing a Thermacell Mosquito Repellent device. He provided a rave review and I have since purchased one as a birthday gift to myself, but I have yet to put it to use.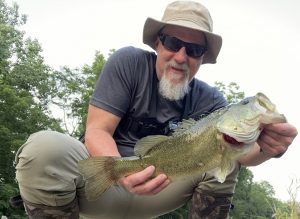 New Top Bass from the Canal, a slim 3-6 at 20″ could have weighed considerably more
July 21 – I committed to one stretch of water on this evening from 6:25pm to 8:40pm. It was an odd night as the first forty minutes failed to produce a bite. However, I just had a feeling that things were going to turn out well in the end (even made such a prediction on my GoPro video to be released one of these days). As it turned out, I caught my Top Bass from the canal at 3-6. At 20", it was a slim specimen and likely would have weighed near four pounds if filled out. In addition, a 2-10, 2-0 and 1-4 joined the log for my heaviest daily total despite being one bass shy of my five bass target limit (always catch and release).
Lessons
As a part of each "Prowl the Canal" report, I intend to pass on some lessons learned along the way, regardless of the results of the outing. The concept of this feature is to reinforce that you should learn something new each time you hit the water.
1. Packing a dipnet along on a canal prowl can be beneficial as you encounter some interesting bank access. The lengthening of your "arm" can save the day.
2. Dipping bass caught on lures sporting treble hooks can make for a tangled mess. The pic below is the result of having to snip a Mann's Baby 1- crankbait out of the dipnet.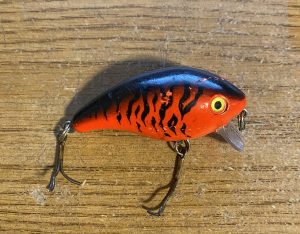 3. You should have spare treble hooks amongst your terminal tackle.
A couple days after the July 21 trip, I was back on the canal to celebrate my birthday. Stay tuned for that report along with a Lake Storey report featuring a special guest. Talk to you later. Troy