I was able to take birthday number 54 off from work to make for a three-day weekend and spent the first half of the day fishing and exploring on the Hennepin Canal. While the bite was tough during the hot, muggy morning and early afternoon, I learned plenty.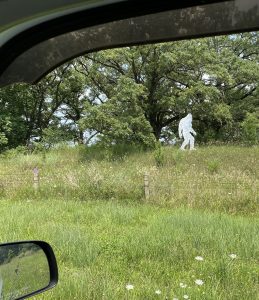 Not the only one to "Prowl the Canal"
Stats
Date: July 23, 2021
Location: Hennepin Canal – Henry/Bureau County, IL
Time: 6:15am-2:15pm (4.25 hours fishing, the rest exploring)
Weather: Sunny/calm and reaching the upper 80s
Totals: 4 bass
Lures: 5" Yamasenko wacky rig (pumpkin with black flake) – 3 bass, Strike King Squarebill crankbait (sexy shad) – 1 bass
Top Bass: 1-9 (Senko)
Top 5 Weight (only one bass at 12" or better): 1-9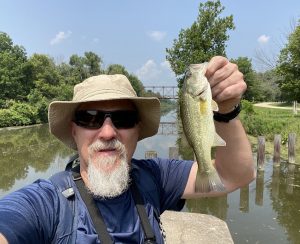 11:53am – Little bass but good to get one on a new stretch of the canal
Trip Lyric
"How you feeling? Hot, hot, hot." – Hot, Hot, Hot – Buster Poindexter (1987)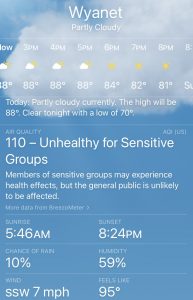 Notes and Nonsense
Gut Feelings – As noted in the last "Prowl the Canal" report, I struggled during the start of an evening outing. However, despite forty minutes without a bite, I just had this feeling the something good was going to happen. Right on the money, as the bite kicked in and I posted my new Top Bass from the canal along with my heaviest limit (all released). In contrast, on this outing, my confidence was lacking. I was hot, fatigued and just didn't have that same vibe. Similarly, my feeling was right on target as I just couldn't get anything going in terms of a solid bite.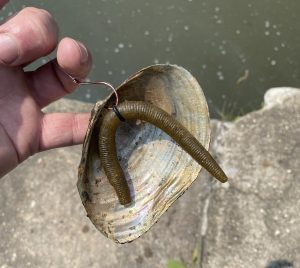 An entertaining catch on a tough day, I'll take whatever I can get to bring a smile
Senko on the Half Shell – When you can't fool the fish, the mind wanders, and you may find yourself seeking anything that can salvage the day and provide something of interest. On this day it was a clam shell that I snagged with my Senko. I was so desperate to catch something that I was secretly urging the shell to stay hooked as I hoisted it up to my perch on a lock wall high above the water. I know that I have seen a clam shell catch but I believe that this is the first time I have personally achieved such a feat.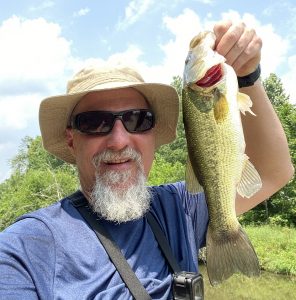 1:26pm – Top Bass on a Senko at 1-9
Top Bass – While not a trophy at 1-9, the day's Top Bass was an entertaining catch. The fish hit a crankbait and a spinnerbait several times right in front of me without getting hooked. This prompted me to reach for my Senko as it is a bit less of a mouthful and I figured that it would improve the odds of getting a hook into a lip. Sure enough, the bass was still hanging out and interested in an offering that often proves too hard to resist.
Lessons
As always, my "Prowl the Canal" features include some bits of information and observation gleaned from my time on the waterway.
1. Fishing or not, the historic corridor is cool piece of engineering at over 100 years old. There's plenty to see at the multitude of access points along the way.
2. If your normal stomping grounds aren't cooperating, it doesn't hurt to explore in hopes of finding some new spots.

End of the prowl…
When it was all said and done, I wandered quite a ways from home for a mere four bass. However, a tough day fishing beats a day at work, and I am confident that my legwork will pay some dividends as my prowls continue. Talk to you later. Troy