The Emiquon Preserve opened in 2009 and featured bass fishing like nothing we'd ever seen. However, by 2011, there were rumblings among some anglers that the glory days were already over. Ten years ago this week, Brent and I decided to head down to Fulton County to see for ourselves. Read on for the outcome as detailed in the original blog posting.
Originally posted on August 9, 2011 as "Emiquon Responds"
I frequently spout off about how there's more to a fishing trip than simply the fish and I believe that. However, it's always rewarding when you get the opportunity to put the hurt on some bass along the way. Emiquon gave us that opportunity last Saturday by revealing a few more secrets and showing some flurries of activity reminiscent of 2009. Perhaps it was a little tired of some of the 2011 trash talk, mine included. Me, my brother and Emiquon hashed things out over ten hours together and appear to be on friendly terms again.

When the log entry covers four and a half pages, that's quite a day
Stats
Date: August 6, 2011
Location: The Emiquon Preserve
Time: 6:02am-4:02 pm
Weather: Partly cloudy to sunny/breezy
Air Temp: 75-90F
Water Temp: Not available but like bath water
Totals: 95 bass (Troy – 55, Brent – 40)
Lures: Strike King Red Eye Shad (sexy shad) – 55 bass, Rat L Trap (Tennessee shad/gold) – 29 bass, Rapala Rattlin' Rap (silver/blue) – 3 bass, Rapala Rattlin' Rap (shad) – 3 bass, Tandem Spinnerbait (red/gray) – 2 bass, Mann's Baby 1- (Tennessee shad) – 2 bass, Buzzbait (green/chartreuse) – 1 bass
Top Bass: 2-4 (Troy – Strike King Red Eye Shad)
Top 5 Weight: 10-9 (2-4, 2-3, 2-2, 2-0, 2-0)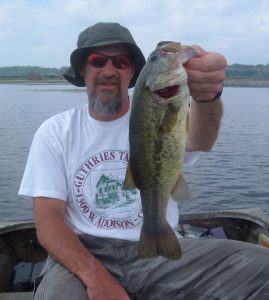 Top Bass at 2-4, lots of these in there back in the day
The Numbers
95– Our second best Emiquon outing left us five bass shy of the century mark. I never count until we're done, and I doubt we would have stuck around in pursuit of those last few fish anyway. We did take a half hour break in the midst of a good bite, but that story will have to wait until next blog posting. (Note: we assisted a fellow angler with a treble hook in his thumb and a bass attached to another treble on the lure)
94 – The number of minutes before I caught my first bass.
55 – Although I did briefly throw a Zara Spook (a couple hits), a topwater frog (one hit), a Senko (no bites), a Yum Wooly Curltail (no bites), a Quad Shad spinnerbait (no hits) and a couple Strike King Pro model crankbaits (one lost fish), my Red Eye Shad caught every one of my fish.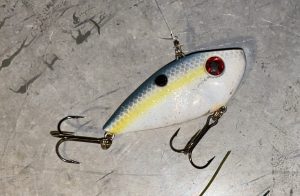 Strike King Red Eye Shad, the only lure I needed on this day
30 – The approximate number of times we retied our lures after our catch either engulfed the bait or wrapped the line around a treble during some aerial hijinks
25 – The number of bass I envisioned us catching despite some recent glowing reports. I didn't foresee being quite that wrong which leads me to wonder why you don't often encounter the word "underconfident."
12 – The number of bass in our haul that were less than 12" in length.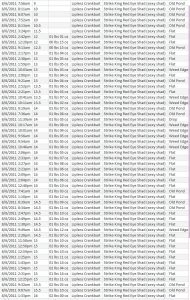 The lack of small bass (<12″) in my haul was totally off the charts in terms of length distribution 
7 – The total number of boats that we saw in the parking lot all day, on a Saturday, which is fine.
2 – The number of boats that arrived before we did.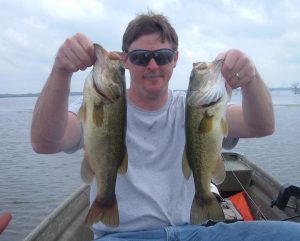 More Emiquon craziness, two bass caught on a lipless crank at the same time
1.167 – It is Basic Baseball Statistics 101 that a player bats 1.000 on a 4 for 4 or 5 for 5 day at the plate. But in fishing it's possible to do even better as Brent demonstrated by going 7 for 6 thanks to a pair of bass coming on one of those six casts during a feeding frenzy.
Emiquon was one of a kind. Talk to you later. Troy