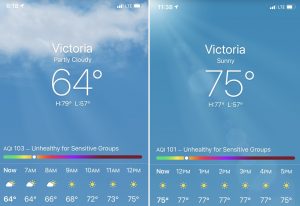 Last Saturday I headed back home for an overnight with my boys in tow for the second weekend in a row. While they slept in and hung out with their cousins on Sunday morning, me and Dad took our first tag team shot of 2021 at an old Knox County strip mine stomping ground.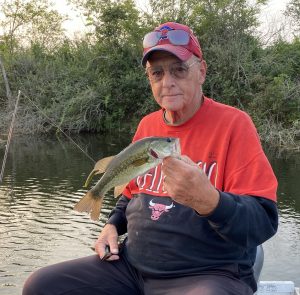 6:44am First bass on a Senko
Stats
Date: August 1, 2021
Location: Little John Conservation Club – Knox County, IL
Time: 6:15am-11:00am
Weather: Sunny/calm to breezy
Air Temp: 64-75F
Water Temp: 80F
Totals: 17 bass (Troy = 11, Dad = 6)
Lures: 5" Yamasenko wacky rig (various colors) – 15 bass, Strike King Red Eye Shad (sexy shad) – 1 bass, Booyah Buzzbait (snow white shad) – 1 bass
Top Bass: 0-15 Troy Senko
Top 5 Weight (only 3 at 12" or better): 2-10 (0-15,0-14,0-13)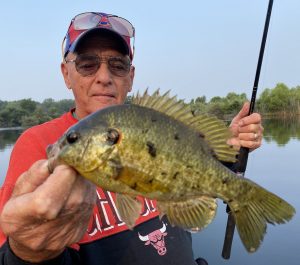 7:27am Bonus redear on a Senko
Notes and Nonsense
The Ride – Going anywhere with two young boys is a trip as they keep you entertained with their banter. As usual, I had the tunes going on the radio prompting Jayce to implement a "no singing" challenge. I made it roughly one minute into Sammy Hagar's "Your Love Is Driving Me Crazy" before I was out. The boys lasted the remaining 40 minutes of the drive although Jayce barely survived Journey's "Any Way You Want It" and Queen's "We Will Rock You/We Are The Champions." At one point I stated that if the Cubs were playing I would have it made. Jayce disagreed, saying that I wouldn't be able to resist chiming in with a Pat Hughes home run call and then proceeded with his own imitation, "That ball's got a chance…Gone!" Yep, he's probably right, except the Cubs aren't knocking many out of the park these days.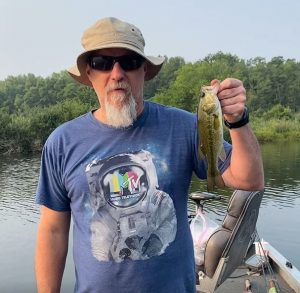 7:59am my first bass and sporting my lucky shirt on the 40th anniversary of MTV
Oops – A misstep in the well of the boat resulted in me tramping on one of Dad's poles and busting the rod tip. Always a bad break but even worse as the pole is probably 30 years old, possibly a hand-me-down from Brent when he upgraded a set up. Boat launching and loading also gave me some trouble on the makeshift ramp. Both aspects took a couple tries to hit the narrow and slightly concealed spot. It is also a fine line between not far enough and too far for the trailer as there is a rapid dropoff. To end our day, it took three tries to load the boat but fortunately there was no crowd of observers as might be the case on some public waters.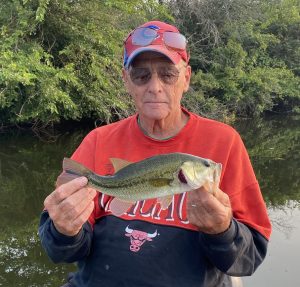 8:07am Dad's Top Bass on a morning where we couldn't find any big ones
Cubs Question – As we prepped to hit the road, a shore angler noticed Dad's cap and commented on the Cubs recent dump of their veterans and others. Certainly, a shame for me as a lifelong fan and still hard to accept in my fifties that baseball is a business and career loyalty is a thing of the past. Those days are long gone, and I miss the one team players of my youth: favorites like Jim Rice, Robin Yount, George Brett, Johnny Bench, Willie Stargell and Mike Schmidt. I'd hoped that Kris Bryant could join the ranks, but I guess that I should know better. I'm not sure if even the likes of Pat Hughes and Ron Coomer can keep me entertained enough to maintain my regular radio following for the rest of the year. Maybe more evenings on the water instead.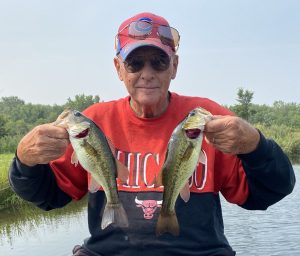 9:53am Dad with our double and two of the only three "keepers" we managed to fool
Our morning ended with a decent quantity, but we had to work for them and just couldn't find any quality bites. That's August for you, but always good to get out on the water with Dad no matter what we catch. Talk to you later. Troy