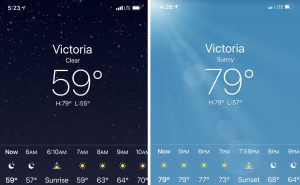 My brother and I took on Snakeden back in mid-June to the tune of a 55 bass outing that included a two, a three and a four-pounder. Well, on this trip we were able to up the quantity but just couldn't find any real big bites. Plenty of solid, healthy bass though made for quite a day.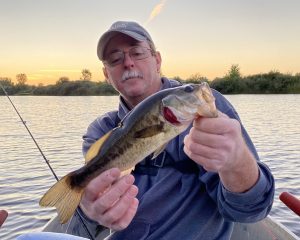 6:03am – First Bass
Stats
Date: August 15, 2021
Location: Snakeden Hollow (5 lakes)
Time: 5:55am-12:15pm (5.25 hours fishing, the rest walking)
Weather: Sunny/breezy
Air Temp: 59-75F
Water Temp: no reading
Totals: 61 bass (Brent – 32, Troy – 29)
Lures: Senko wacky rig (various) – 26 bass, Emiquon Special Spinnerbait – 14 bass, Strike King Red Eye Shad (sexy shad) – 9 bass, Buzzbait (chartreuse or white) – 7 bass, Strike King Pro Model Series 4 Crankbait (sexy shad) – 3 bass, War Eagle Spinnerbait (white/chartreuse) – 2 bass
Top Bass: 1-12 (Brent – Senko)
Top 5 Weight: 7-12 (1-12,1-10,1-8,1-7,1-7)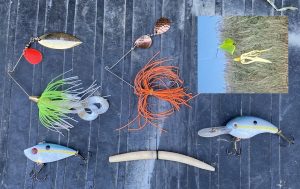 Winning Lures
Trip Lyric
"And there's not another living soul around." – Say That You Love Me, Fleetwood Mac (1976)
Notes and Nonsense
Senko Stealers – Combined, we lost at least half a dozen Senkos to either bluegill or small bass just grabbing an end, avoiding the hook, and pulling the worm from the O-ring on the hookset. It could have been worse had we not wised up to the fact that on a couple lakes there was a substantial amount of interested small fish. The "tap, tap, tap" feeling of their hits, observing our Senkos darting around under the surface or seeing our lines taking little jumps were telltale signs to refrain from setting the hook as best we could resist. Each of the above are markedly different than watching your Senko disappear in clear or shallow water or feeling a solid thump, both of which are characteristic of a "real" bite.
Keepers – I have long called any bass at or over 12" a "keeper" although they all get released. I refer to any over two pounds as a "good" fish. We didn't get any of the latter variety, but a late flurry of quality bites made for a good day in terms of "keeper" percentage (KP value). 29 of our 61 bass met the mark for a KP value of 47%. Many factors come into play when pond hopping on the collection of Snakeden fishing holes. Of the five lakes we fished, I categorize one as a smaller bass lake, one with potential quality bites, and three where the jury is still out due to limited "sampling." Those latter three, however, have gotten our attention on our two recent trips with some solid results. Even after thirty years of running around out there, there's still plenty to learn about Snakeden Hollow.
Old School – I must laugh sometimes at our somewhat ragtag approach to chasing these green fish. Our boat is probably close to fifty years old, but no one really knows as it was discovered washed up in a logjam on creek in the late 1970s/early 1980s. The ends of the oars we use to propel the boat are completely chewed up, kind of gives them some personality in my opinion. And then Brent is chucking a buzzbait that he made thirty years ago with a half-melted skirt and still reeling in the bass. His old Emiquon Special spinner bait has gone through several skirts and is darn near threadbare, but he can still fool those bass. I've got a couple reels that make sounds they shouldn't make and one the sometimes takes several attempts to get the spool to engage after a cast. I guess it don't have to be pretty (or expensive) as long as it works, and you have fun.
12:05pm – Last bass
And fun, it was. It took us a while to find some decent bites, but we ended up fooling a solid batch of healthy bass on our final stop. The fact that several strikes came on buzzbaits or in close proximity to the boat just added to the enjoyment. Hope to do it again a couple times before Snakeden locks out the anglers in about two months. Talk to you later. Troy